Patna, Bihar: Doctors Without Borders/Médecins Sans Frontières(MSF) in collaboration with the Bihar government, opened a 100-bed temporary hospital for COVID-19 patients at the Patliputra Sports complex in Patna. This COVID -19 treatment centre, the first-of-its-kind to be fully managed by MSF in India, was opened by Nitish Kumar, Chief Minister of Bihar in the presence of Mangal Pandey, Health Minister, Bihar. This temporary hospital will initially provide medical care to patients with mild or moderate symptoms to support the isolation of confirmed COVID cases, and reduce community spread.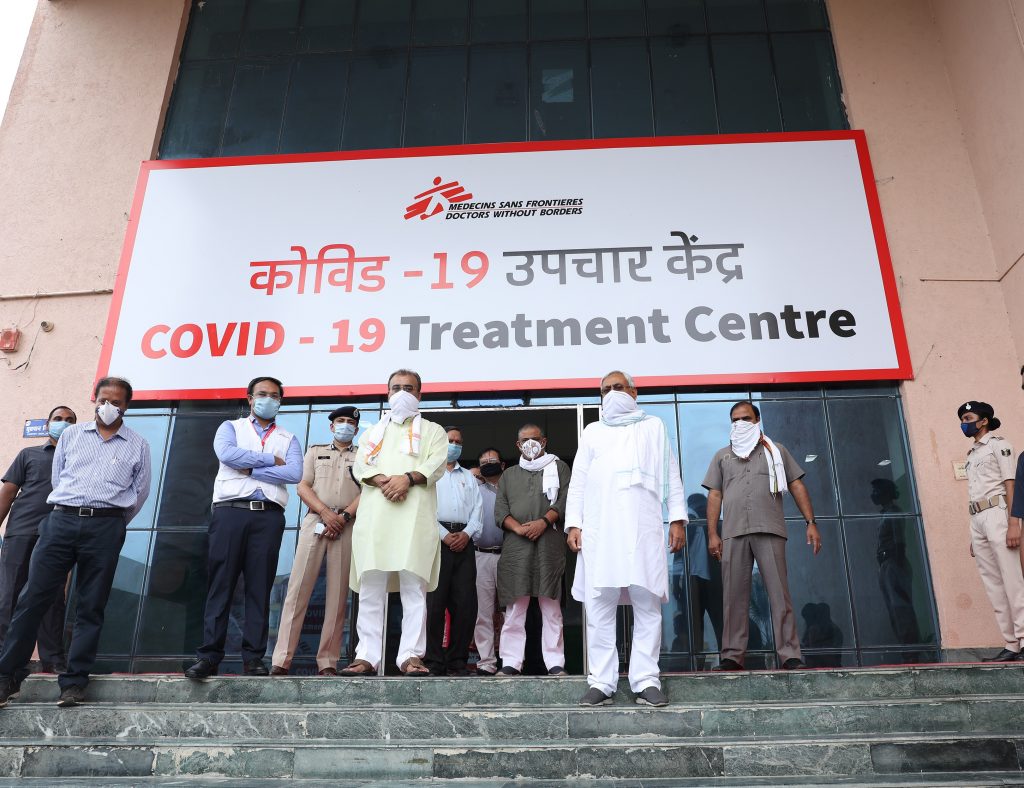 As the pandemic evolves, and oxygen demand outstrips existing supplies, the focus will switch to providing high-flow oxygen to moderate-severe cases, and dignified palliative care to those who require it. 
The indoor stadium was remodelled by MSF to become a temporary treatment center with facilities like triage, isolation, personal protection equipment, and infection prevention and control measures. Managed by 180 MSF staff from across the country, this center will offer inpatient care, mental health support, access to all essential drugs and medical supplies to manage moderate cases.
"Responding to emergencies is at the core of what MSF does – we are putting our knowledge and experience in epidemic management to help mitigate the impact of COVID-19 in Bihar state."
Shri Mangal Pandey, Health Minister, Bihar added "In these times when the world is grappling with a pandemic, it is essential for all stakeholders to work together and fight this battle against COVID – 19. This initiative by MSF to open a temporary hospital to provide free treatment to COVID – 19 positive patients is an excellent example of how every contribution counts and the Bihar government wholeheartedly supports their work."
Dr. Prince Mathew, Country Director, Doctors Without Borders, India, commenting on the announcement said,  "Responding to emergencies is at the core of what MSF does – we are putting our knowledge and experience in epidemic management to help mitigate the impact of COVID-19 in Bihar state. This pandemic affects us all. For this reason, the response needs teamwork. Our partnership with the local health authorities enables us to increase treatment capacity, reduce mortality and prevent infections in the state."
Earlier last month, MSF also donated personal protective equipment valued at over Rs. 1 crore to Bihar state Health department for frontline healthcare workers. This included N-95 masks, eye/face protection, gloves and high quality body protection. 
For more information on MSF's response to COVID-19, and their increased efforts to protect access to healthcare in their programmes around the world, please click here.
About MSF
MSF is an international, independent, medical humanitarian organisation that delivers emergency aid to people affected by armed conflict, epidemics, natural disasters and exclusion from healthcare in over 70 countries. MSF offers assistance to people based only on need and irrespective of race, religion, gender or political affiliation. MSF has been working in India since 1999, providing free-of-charge essential healthcare in Andhra Pradesh, Bihar, Chhattisgarh, Delhi, Jammu & Kashmir, Jharkhand, Maharashtra, Manipur, Telangana, and Uttar Pradesh. MSF received the Indira Gandhi Prize for Peace, Disarmament and Development in 1996 and the Nobel Peace Prize in 1999.
MSF has a long history of humanitarian medical work in Bihar over the last 10 years including in Darbhanga district for Malnutrition, Hajipur for Kala Azar. Currently in Patna, MSF runs a treatment ward at the Guru Gobind Singh Hospital for the treatment of Advanced HIV patients with severe complications.