Healthcare for women, children and newborns is a serious concern in Pakistan and remains our priority there. Women in rural areas die from preventable complications during pregnancy and delivery, and neonatal care is unavailable in many areas. According to the Pakistan Demographic and Health Survey, one in every 11 children dies before the age of five.
Access to healthcare remains a challenge in Pakistan, especially for people in rural communities, informal settlements and areas affected by conflict.
Healthcare for women, children and newborns
The availability of free, high-quality medical care is limited for women and children, particularly in rural areas. We work in four different locations in Balochistan and Khyber Pakhtunkhwa provinces to provide reproductive, neonatal and paediatric care. Local communities, Afghan refugees and people who cross the border from Afghanistan to seek medical assistance benefit from our comprehensive 24-hour emergency obstetric services, which include surgery and referrals for complicated cases. We also run inpatient and outpatient therapeutic feeding programmes for severely malnourished children in Balochistan.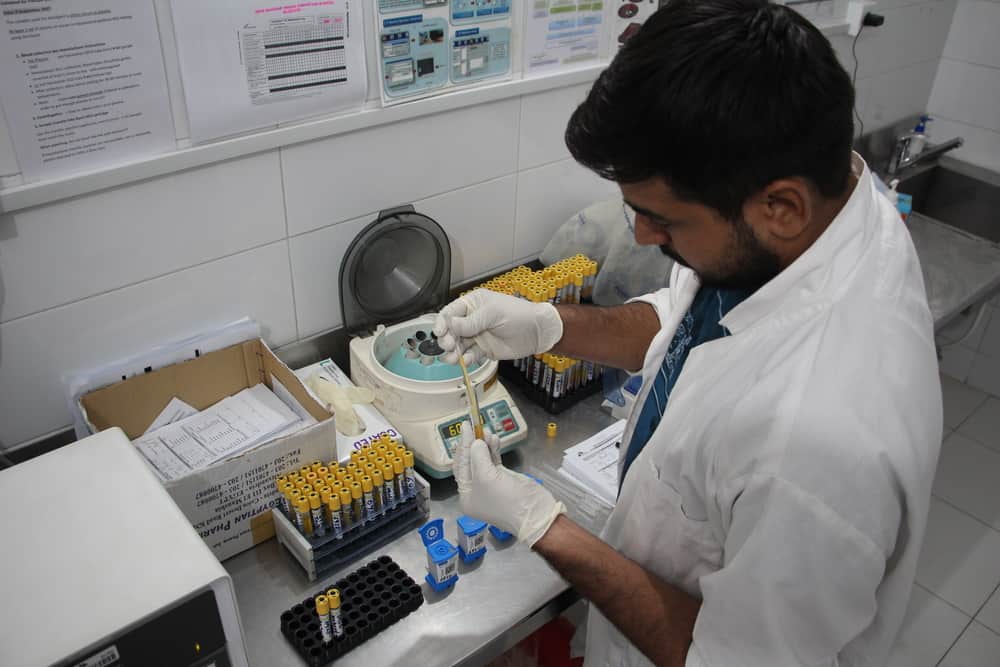 Endemic Diseases
Cutaneous leishmaniasis, a disease transmitted by the bite of a sandfly, is endemic in parts of Pakistan. The disease is characterised by disfiguring and painful lesions. We run five treatment centres for this disease; three in Quetta, Balochistan, one in Bannu and one in Peshawar Khyber Pakhtunkhwa. Our teams offer diagnosis, treatment, health education and counselling. The cutaneous leishmaniasis programme has been expanded to the outskirts of Peshawar through MSF satellite clinics. In 2020, 3,363 patients were started on treatment for cutaneous leishmaniasis. Pakistan also has one of the highest prevalence rates of hepatitis C globally. In a clinic we run in Machar Colony, a densely populated informal settlement in Karachi, we provided nearly 4,602 consultations for hepatitis C in 2020.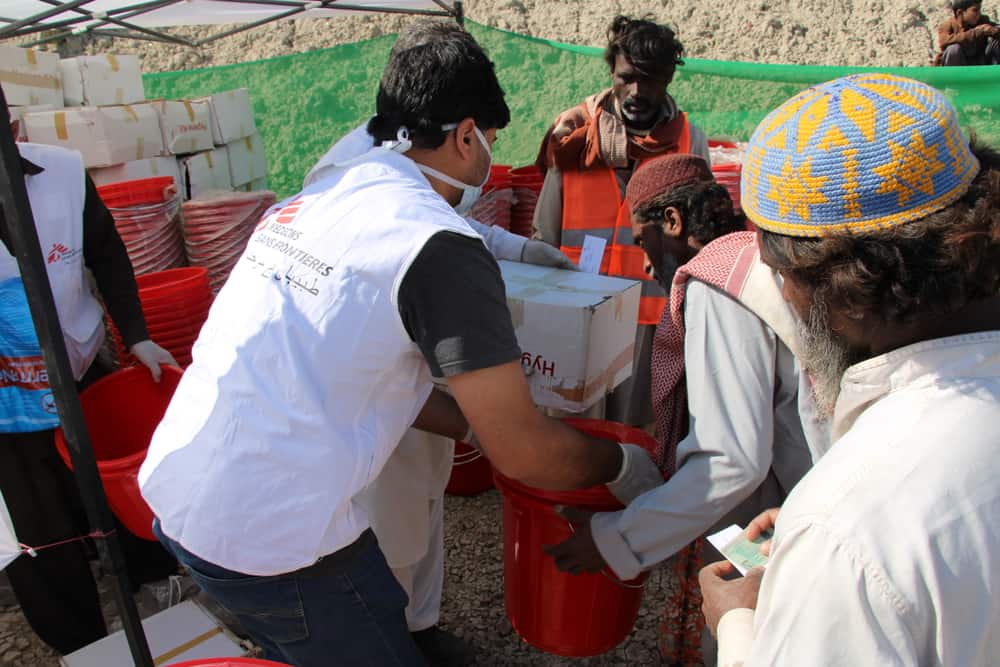 Emergency Response
MSF supports the Pakistani authorities with emergency response preparedness in case of disease outbreaks or natural disasters. When floods hit the Sindh region in October 2020, as a post-emergency response , we set up mobile clinics that visited 25 flood-affected villages in Tehsil Johi. Two medical teams provided basic outpatient medical services to more than 4,000 patients over the course of a month. Also, essential relief kits were provided to 2,500 families affected by the floods in five union councils of Tehsil Johi.
COVID-19 Pandemic
MSF teams are responding to the COVID-19 pandemic in Pakistan. In Karachi, we are providing COVID-19 vaccination services to support the Government of Sindh's mass vaccination campaign at the Rural Health Centre Sher Shah. We also support the vaccination's cold chain management and maintenance. In Balochistan, MSF nurses and a lab technician support the COVID-19 unit of the government's centralized Fatima Jinnah hospital. We have also provided training to Balochistan Department of Health staff on patient transfer between facilities to COVID-19 facilities and support the transfer of COVID-19 samples from Dera Murad Jamali, Jaffarabad and Chaman to the provincial laboratory in Quetta.
In Pakistan, MSF focused on supporting the national response to COVID-19, while ensuring continuity of care in essential paediatric, maternity and trauma services.
MSF launched a range of COVID-19 activities, including infection prevention and control, screening and treatment in some of the worst-hit areas of the country. In April, we installed a COVID-19 screening system at Timergara District Headquarters hospital in Lower Dir, to help protect against the virus and prevent it from spreading inside the facility to healthcare workers, patients and their caregivers and, by extension, outside in the community. For six months, we also ran an isolation ward that, at the peak of the first wave of the outbreak in June 2020, had 30 beds for patients with suspected and confirmed COVID-19. Those requiring ventilator support were referred to specialist care facilities in Peshawar.
The spread of COVID-19 among staff at our women's hospital in Peshawar forced us to suspend activities for six weeks. The services resumed after structural changes in the hospital, the establishment of an isolation area, and the implementation of strict infection prevention and control measures, including a COVID-19 screening system for patients and their caregivers.
In August, in Chaman, a town in Balochistan located on the border with Afghanistan, MSF supported the establishment of a 32-bed isolation ward in Killa Abdullah New District Headquarters hospital, providing electricity and waste management, as well as personal protection equipment (PPE) for healthcare workers. Our teams also screened people entering the hospital.
In Karachi, Pakistan's worst-affected city, MSF worked with the Ministry of Health to distribute around 160,000 reusable cloth masks and 70,000 bars of soap to over 20,000 households in Machar Colony, a densely populated slum, where physical distancing was hard to maintain. Through teams on the ground and a media campaign, we conducted extensive awareness-raising activities on ways for people to protect themselves and prevent the spread of the virus.
MSF also donated drugs and PPE to the provincial authorities of Sindh and Khyber Pakhtunkhwa.
Emergency responses
COVID-19 was not the only emergency that struck Pakistan in 2020. Torrential rains during the monsoon season led to flooding in more than 350 villages in Sindh's Dadu district. MSF set up mobile clinics as part of a post-emergency response and treated more than 4,000 people in a month. We also distributed relief items including cooking, hygiene and shelter kits to around 2,500 families, rehabilitated the main water supply sources and distributed water purification tablets.
We donated mosquito nets in Sindh and Khyber Pakhtunkhwa, and worked with the health authorities in both provinces to disseminate transmission prevention and vector control messages on dengue fever when health facilities started to report cases.
Continuation of regular activities
COVID-19 posed further barriers to healthcare for women and children in Pakistan, where the availability of free, high-quality services is already limited, especially in rural settings. Many public and private facilities closed temporarily due to fear of infection.
 
In spite of several challenges, such as staffing issues and a shortage of drugs and PPE caused by high demand and restrictions on exporting items from Europe, our teams continued to provide essential reproductive, neonatal and paediatric care at five different locations in Balochistan and Khyber Pakhtunkhwa provinces. Local communities, Afghan refugees and people from the border areas benefited from MSF's comprehensive 24-hour emergency obstetric services, which include surgery and referrals for complicated cases. We also operate a nutrition programme for severely malnourished children in Balochistan. In addition, MSF runs the only emergency room in Chaman for the management and referral of critical trauma cases.
Our hepatitis C programme in Machar Colony, Karachi, includes screening, diagnosis, treatment and counselling, as well as health promotion activities. From March to June, to avoid possible exposure to COVID-19, we reduced our timetable at the clinic to two days per week and patients scheduled for monthly visits were given enough medication for three months.  
Cutaneous leishmaniasis
Cutaneous leishmaniasis is a skin infection caused by a parasite transmitted by the bite of a phlebotomine sandfly and is endemic in Pakistan. In March, MSF opened a new diagnostic and treatment centre at the District Headquarters hospital in Bannu, Khyber Pakhtunkhwa, for patients with the disease. We run four other treatment centres in Quetta and Peshawar. However, following the authorities' decision to close outpatient services because of COVID-19, we had to suspend these activities between March and July.
Handover of activities in Timergara
In March, we began the gradual closure of our Lower Dir project with the handover of the emergency room to the Department of Health. Our teams had provided over a million emergency care consultations to patients since opening the project in 2008. The second step was the handover of the neonatal unit, which had admitted more than 9,000 babies between May 2014 and August 2020. The handover process was finalised in January 2021.
Misuse of labour-inducing drugs
We continued our advocacy and awareness-raising activities regarding the safe use of labour-inducing drugs such as oxytocin, which are often administered unnecessarily and outside of health facilities. Misuse of such drugs is linked to maternal and neonatal health complications. In Pakistan, oxytocin is available in many pharmacies without prescription and is a favoured means of speeding up labour and relieving pain. We used mass communications tools to promote safe medical practices, and engaged parliamentarians and the Ministry of Health to reinforce existing legislation related to labour-inducing medicines.
OUTPATIENT CONSULTATIONS FOR COVID-19
ADMISSIONS OF CHILDREN TO OUTPATIENT FEEDING PROGRAMMES
PEOPLE TREATED FOR CUTANEOUS LEISHMANIASIS
PATIENTS ADMITTED FOR COVID-19