New Delhi, India: As the number of people with COVID-19 continues to rise across India, Médecins Sans Frontières/Doctors Without Borders (MSF) is supporting the Bihar State Government by providing crucially needed personal protective equipment for frontline healthcare workers. This includes N-95 masks, eye/face protection, gloves and high quality body protection. In addition, viral transport mediums used in the testing of COVID-19 patients are being provided. The total value of the donation is valued at over Rs. 1.1 crore. The  equipment will be used by medical staff in Nalanda Medical College and Hospital and other facilities in Bihar to ensure their safety. These will be delivered to the Office of the Resident Commissioner for Bihar in New Delhi on Monday 6th April 2020.
"It is critical to reinforce and protect healthcare personnel who are the first line of response against the virus."
"The coronavirus pandemic threatens the lives of people around the world and it could present even greater risks in countries with dense populations and where health systems can be overwhelmed very quickly," said Dr Prince Mathew, Country Director, Doctors Without Borders, India. 
"It is critical to reinforce and protect healthcare personnel who are the first line of response against the disease. Responding to epidemics and assisting vulnerable populations in crises is something MSF has done over many decades globally. In the next few weeks we will also potentially support the Bihar state health authorities in the direct management of patients through facility decongestion preparedness."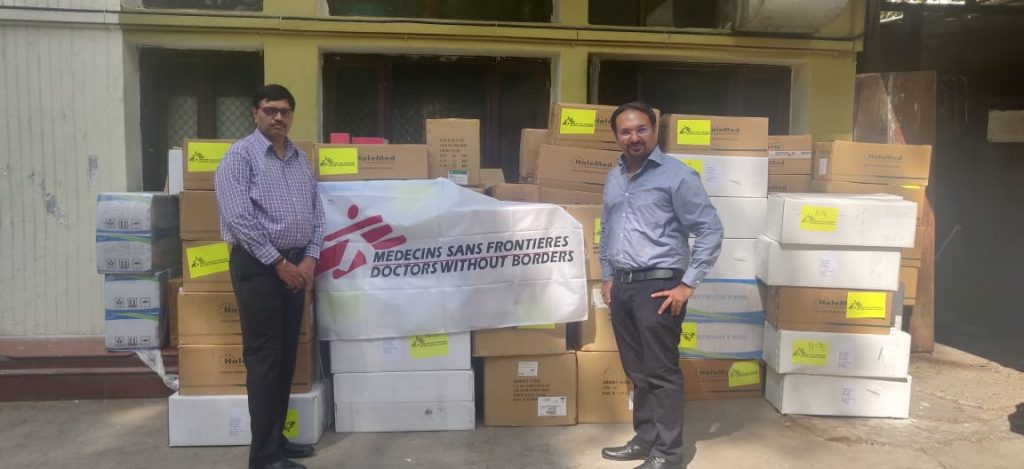 Across the world MSF, has witnessed that shortages of personal protective equipment are commonplace, leaving healthcare workers on the frontline exposed. This can severely hamper the ability and capacity of any healthcare system to save lives. 
For more information on MSF's response to COVID-19, and our increased efforts to protect access to healthcare in our programmes around the world, please visit https://www.msf.org/covid-19-depth. 
ABOUT MSF  
MSF is an international, independent, medical humanitarian organisation that delivers emergency aid to people affected by armed conflict, epidemics, natural disasters and exclusion from healthcare in over 70 countries. MSF offers assistance to people based only on need and irrespective of race, religion, gender or political affiliation. MSF has been working in India since 1999, providing free-of-charge essential healthcare in Andhra Pradesh, Bihar, Chhattisgarh, Delhi, Jammu & Kashmir, Jharkhand, Maharashtra, Manipur, Telangana, and Uttar Pradesh. MSF received the Indira Gandhi Prize for Peace, Disarmament and Development in 1996 and the Nobel Peace Prize in 1999.

MSF IN BIHAR
MSF has been in partnership with the Bihar State Health Society since 2007, working on severe acute malnutrition in children, kala azar (visceral leishmaniasis) and HIV, treating tens of thousands of patients till date.  MSF has in 2019 been focussed on providing high level holistic care to the most vulnerable and unwell population of people living with HIV/AIDS, based out of Guru Gobind Singh Hospital in Patna.

For more information, please contact
Aditi Sonrexa, Media Manager
Email: aditi.sonrexa@new-delhi.msf.org
Mobile: +91 9810489653