Ravi* (43) never realized his unhealthy diet's detrimental effects on his health until his sugar levels spiraled out of control. He is a hardworking daily wage laborer in New Delhi. His fondness for junk food is fueled by its easy accessibility in his daily lifestyle. The diagnosis of his condition was overwhelming, leaving him unsure of how to navigate his condition and the associated costs of medical treatment and nutritionist consultations. In a country burdened by Diabetes Mellitus (DM), comprehensive care and support for those affected is not a luxury enjoyed by everyone.
India has the second-highest number of diabetes cases worldwide (72.9 million as of 2017, projected to rise to 134.3 million by 2045). Within this context, Médecins Sans Frontières/Doctors Without Borders (MSF) South Asia operates a pan-India DM Telemedicine Care Helpline to enable vulnerable communities to access healthcare services without limitations.
By providing comprehensive care, including dietary advice, medication guidance, and lifestyle modification counseling, the helpline empowers patients to manage their condition effectively from the comfort of their own homes.
Ravi was referred to the MSF DM Telemedicine hotline. The nurse on the other end of the line called regularly to share valuable information on appropriate nutritional diets to manage his condition. She also gave him advice on how to prepare healthy meals on a tight budget. Since then, Ravi has been following the advice and records significant improvements in his health. He feels more energetic now. He says that the calls give him hope and empower him with knowledge to make positive changes in his life.
MSF's model of care supports patients in managing DM effectively through a hybrid model combining the expertise of telemedicine intervention and trained healthcare professionals, including nurses, dieticians, and mental health counselors
In the bustling city of Thane, Maharashtra, Priya* (48), found herself caught in the grips of deep depression and suicidal ideations, while her diabetes was running rampant and threatening to consume her. Desperate for a lifeline, she began receiving regular check-in calls from the compassionate nurses of the MSF Diabetes Care project. These calls became her silver lining, providing her with much-needed support and guidance. She embarked on a transformative journey empowered by the nurses' advice. She managed to regain control over her diabetes with their gentle encouragement and regular engagement – one day at a time. She discovered the power of self-care and gradually developed a renewed sense of purpose. Today, she stands as a testament to the remarkable impact that personalized care and empathetic guidance can have on a person's life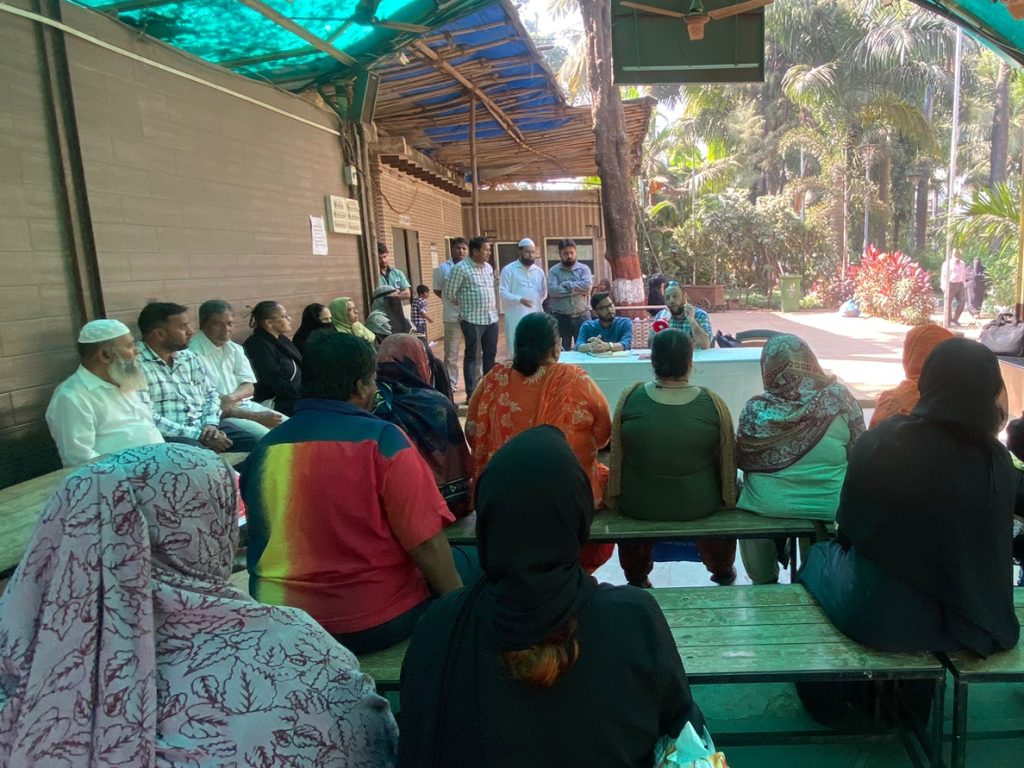 Reaching the vulnerable groups suffering from diabetes, particularly migrants and refugees, women, tribal and rural communities, commercial sex workers, PLHIV, and transgender communities, hasn't been easy. Developing a strategy to tackle rising cases, with counseling and support, needed comprehensive partnerships with institutions and organizations. MSF built its response to this invisible crisis via collaborations with the Department of Community Medicine, Hamdard Institute of Medical Science and Research in New Delhi, as well as three NGOs in New Delhi and Mumbai: The Human Solidarity Foundation, Ummeed Foundation, and Khidmat Trust.
A successful partnership in Mumbai is what led Thane-based, Aisha* (55) to the hotline. She found solace in the unwavering support of the nurses who provided her with timely advice and care. They became her pillars of strength. Aisha took charge of her diabetes management with determination and resilience, embracing the routines prescribed by the nurses, diligently adhering to her medication schedule, and making healthier choices. With each passing day, she witnessed remarkable progress. Her blood sugar (HbA1c) levels, once alarmingly high at 10.2, steadily decreased to a healthier 7.0. Her unwavering commitment and the nurses' invaluable support stand as a testament to the extraordinary results that can be achieved when patient and caregiver work hand in hand
Indeed, an impact assessment of MSF's DM Care project has shown a positive impact on patient awareness levels, especially those from low-income groups. They expressed high levels of satisfaction with the quality of consultation they received from experienced nurses, mental health counselors, and dieticians involved in caregiving. Another case in point is Arjun* (50) from Mumbai, who battled mobility issues for five long years due to his uncontrolled diabetes.
Frustration had taken hold of Arjun as his condition limited his ability to walk freely and robbed him of his independence. Daily check-in calls from the nurses, and his own personal unwavering determination to regain his mobility, pushed him to complete all exercises suggested by the nurses with renewed vigor. Step by step, day after day, he pushed his boundaries. Each small victory became a triumph as he regained his ability to navigate the world with newfound confidence. The joy on his children's faces served as a constant reminder of the profound impact his transformation had on their lives. Arjun attributes his success to this collaborative ecosystem of caregivers and patients. By providing the patients with support, guidance, and encouragement, the nurses empowered them to take charge of their own health, fostering a partnership based on trust and respect
In a country where healthcare services often remain inaccessible for many, helplines such as these are lifelines for those with diabetes. The MSF Diabetes Care project in India is a crucial initiative towards empowering and enabling diabetic patients to manage their condition effectively. The several lived experiences of patients with significant improvement in their quality of life serve as a testament to MSF's commitment to improving the lives of those who need it most.
As the project continues to evolve and expand, it is crucial that it receives the support it needs to maintain its effectiveness. The MSF DM Telemedicine Project is not only an essential initiative for diabetic patients in India but also a model for other healthcare initiatives around the world. It is a reminder that even small-scale interventions can make a significant impact on people's lives.
 * To respect and protect patient privacy, all names have been altered or changed. This modification is done to maintain the patients' anonymity and privacy.