The vast area of the Amazon Basin has always presented a challenge when it comes to providing healthcare to the Indigenous people who live there. But in recent years, the complexity has increased, as an absence of measures to protect some communities, combined with cuts to health budgets for Indigenous people, have created real threats to their welfare and, in some cases, to their survival.  
Nowhere is this more true than for the estimated 30,000 inhabitants of Yanomami territory – an area larger than Portugal – whose health and traditional lifestyles are in danger.    
Much of the destruction has been at the hands of illegal miners in pursuit of gold. They have carried out invasions of Yanomami territory, using heavy machinery to clear swathes of forest along riverbanks and make way for mines. Their activities have scared away animals that were previously hunted for food, while pollution from the mines has poisoned fish in the rivers, threatening local people's ability to feed themselves and causing malnutrition.  
The environmental degradation caused by mining has also left the ground scarred with holes, which fill with rainwater, creating ideal conditions for mosquitoes to breed. As a result, malaria is a growing health problem in the region. At the same time, violence associated with the illegal miners has resulted in some health staff abandoning medical facilities, leaving people without healthcare.  
The health crisis among Indigenous people has become so severe that in January 2023 the new Brazilian government declared a state of medical emergency in Yanomami territory.  
Teams from Médecins Sans Frontières/Doctors Without Borders (MSF) joined the response of the Ministry of Health to the crisis, in February, sending a team to provide medical care and mental health support at the CASAI, a health centre for Indigenous people in Boa Vista, the capital of northern Roraima state. When medical care is unavailable locally, Indigenous people are referred to the CASAI, where they can receive basic healthcare as well as a place to stay while waiting for medical consultations at hospitals or clinics in Boa Vista. 
MSF has recently increased its medical activities in response to a rise in malaria cases across Yanomami territory, sending a team to Auaris region in northwest Roraima state – home to more than 4,000 people and one of the territory's most populous areas. MSF's work in Auaris is being carried out in partnership with the DSEI – the branch of Brazil´s Ministry of Health that deals specifically with the health of Indigenous groups.  
Malaria was already endemic in the Auaris region, affecting both adults and children, but the problem has grown in recent years, as medical resources and health staff dwindle across the region. Between January and June 2023, there were 12,256 cases of malaria in Yanomami territory, a 70 per cent increase on the same period in 2022, according to data from the Ministry of Health. 
To tackle the spike in malaria, MSF has adopted an active case detection strategy, with its team travelling long distances each day, by boat or on foot, to reach remote villages and test people for the disease.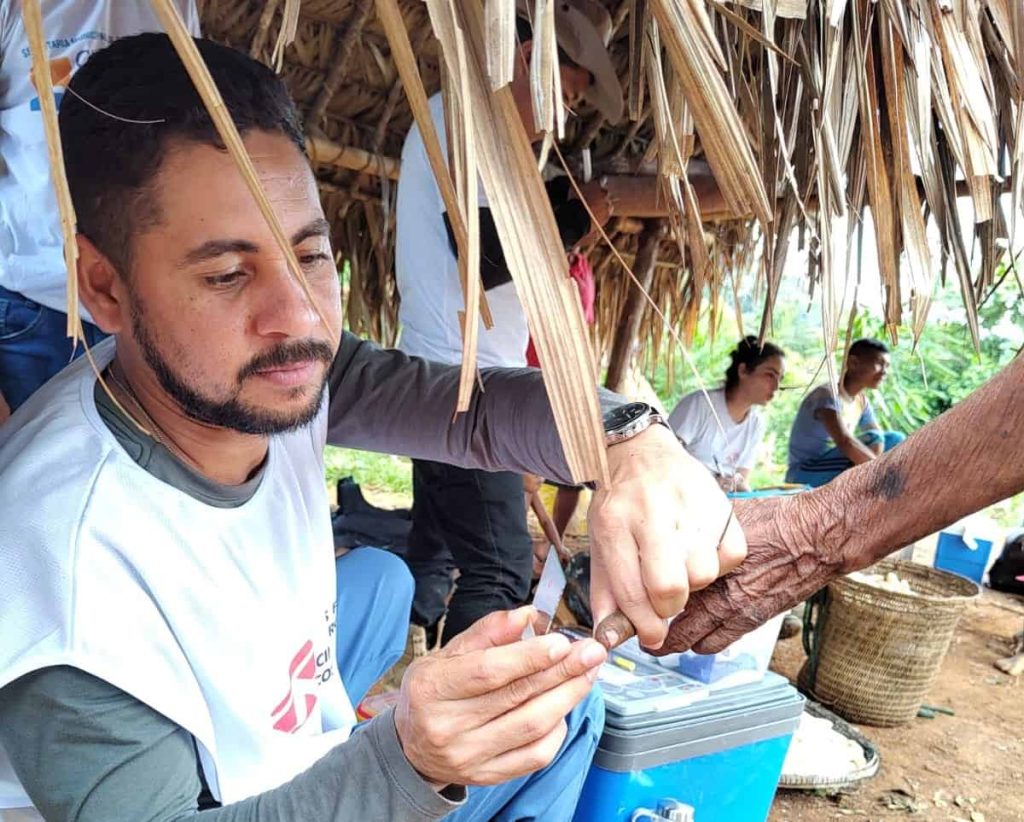 "We are testing as many people as possible, even the ones who have no symptoms," says MSF's Dr Raquel Simakawa, who was part of the team that launched activities in Auaris in May. "This is one of the best ways to diagnose and treat malaria as quickly as possible, lowering the risks of complications as well as transmission rates."   
Team members collect large numbers of blood samples, which are analysed on the same day by a microscopist, who can process up to 100 slides daily. During the first two weeks of activities, the MSF team in Auaris tested more than 1,000 people for malaria, of whom around 200 tested positive for the disease. 
Patients who test positive start taking antimalarial medication immediately. The treatment lasts between three days and two weeks, depending on the kind of malaria detected and whether or not the patient has had the disease previously. Without timely and proper treatment, infection with malaria can lead to complications such as severe anaemia, respiratory discomfort and extreme physical weakness. For people with severe malaria, and for those already weakened by other health conditions, malaria can kill.  
Our case detection and treatment strategies need to be very consistent. That is why our health teams make weekly visits to communities so the testing can be repeated. The test frequency is only decreased once the disease is effectively under control.
MSF's team of 10 in Auaris includes doctors, nurses, a microscopist, an anthropologist and a logistician. They work alongside DSEI doctors, nurses and Indigenous community health agents. "Working in partnership is essential to ensuring we have good access to communities, which is vital for reaching patients and preventing the disease from spreading," says Fábio Biolchini, MSF coordinator for South American operations.   
Despite the fact that MSF is working with limited resources inside a very large territory, with many logistical challenges, Biolchini believes that MSF's previous experience treating malaria stands it in good stead. "MSF has a long history of successfully implementing strategies to prevent and treat malaria," says Biolchini. Last year, MSF treated more than 4.2 million cases of malaria worldwide. 
MSF has also treated malaria in Brazil before now. "In the 1990s, we had strong support from Indigenous communities in Roraima state to implement a successful strategy to detect and treat malaria," says Renata Reis, MSF Brazil general director.
The severe health crisis affecting Yanomami territory is an immense challenge, but we believe we will be able to face it in a more efficient way if we do it in coordination with our partners and, most of all, in line with the needs expressed by the communities we are assisting.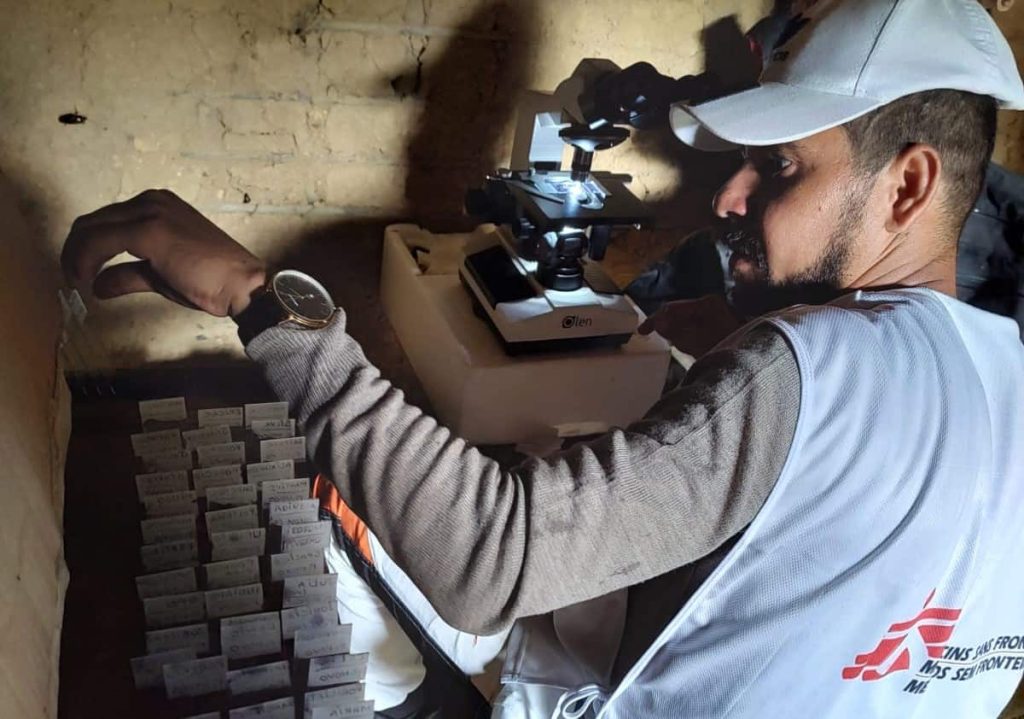 MSF has been working in Brazil since 1991, when its teams responded to a cholera outbreak in the Amazon region. Soon after, MSF helped contain a malaria epidemic in Roraima state, working alongside Indigenous health promoters and microscopists. More recently, during the COVID-19 pandemic, MSF assisted Indigenous populations in the states of Mato Grosso do Sul, Amazonas and Roraima.  
As well as its current activities in Yanomami territory and at the CASAI in Boa Vista, since 2018 MSF has been running a project to support Roraima's health system following the arrival of Venezuelan migrants in the state. An MSF team also works in the town of Portel, in Marajó island region, Pará state, to help strengthen the local health system and improve access to healthcare for vulnerable population groups.