About the fellowship
The Without Borders Media Fellowship aims to encourage both cross-border and hyper-local reporting in South Asia and leverage powerful storytelling to highlight pressing issues concerning public health and humanitarian aid. Stories from the ground will build evidence for medical and humanitarian advocacy and encourage visibility for public health issues that MSF and other similar organizations are working on. 
Fellows will engage closely with mentors, who are experts in journalism and public health, as well as with staff from within the MSF movement, who will provide strategic guidance to the Fellowship programme, advise Fellows, and help identify themes and geographies with the need of greater focus. 
Applicants can apply under two grant categories: Topic-based Grant(Sexual and Gender-based Violence) or General Grant(applicants can choose from the themes mentioned below).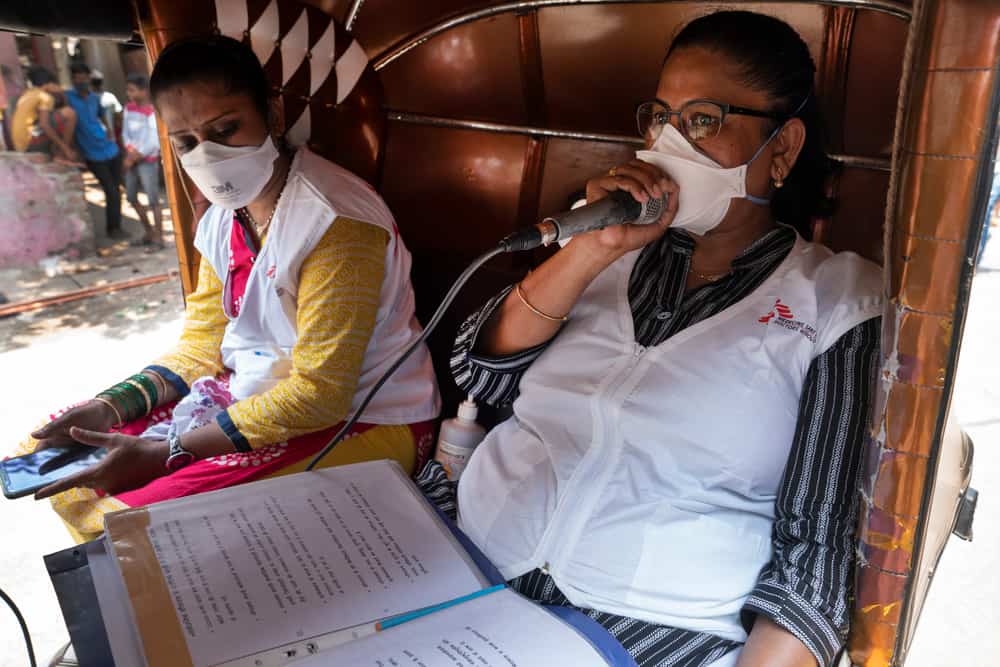 Call for applications for the Without Borders Fellowship 2022-23 is now closed.
Last date to apply
General Grant: 15th September 2022
Topic-based Grant (Sexual and Gender-based Violence) : 25th September 2022
Fellowship duration: 3 months (October – December 2022).
Why bear witness
The Fellowship will contribute to sustained reporting and outreach on the confluence of circumstances and conditions that impact public health in South Asia. This can include but is not limited to environment; social class; crime and violence; urban development; access to health resources, diagnosis and treatment or the lack thereof; transportation or city planning, and disparities in health. 
The Without Borders Media Fellowship aims to: 
Encourage cross-border and hyper-local reporting on health and humanitarian issues in South Asia.  

 

Leverage powerful storytelling, both in visual and non-visual formats, to build public awareness.

Support regional and local media journalists with grants to encourage field visits.

Highlight or expose critical public health or public health policy issues

 
The grant also aims to help enhance rapport with South Asian media by providing logistic and access support to passionate journalists, and creating an enabling environment for them to develop in-depth, insightful reporting on medical humanitarian and issues of public health concern for MSF. 
What to expect as a fellow
Who can apply
Themes
Deliverables
 Application guide
 As selection for the Without Borders Media Fellowship is competitive, we ask applicants to provide:  
Reporting proposal: Description of the story you seek to pursue during your Fellowship. MSF expects a concrete story pitch. Pre-reporting by the applicant on the subject will be of advantage to the application. A compelling, well-researched pitch (with references to add context) with a reporting plan will help stand out among dozens of applicants

Travel and Dissemination Plan: Applicants must share a reporting plan that lists out the preferred start and end dates of the fellowship, field travel plan, the location, resources needed, stakeholders involved, number of stories, etc., as well as a dissemination plan

 

Three examples (links) of your most relevant stories (to the pitch) published in the past three years

 

A letter of commitment or interest from a media organization(s) that would publish your story will be of advantage to the applicant

 

Names and contacts of two professional references

CV or Resume
Past fellows
MSF introduced a fellowship for media in India in 2016 as part of its larger vision to close engage with the media. Following its success, in 2018, MSF India extended an invitation to collaborate with MSF South Africa to make it an international media fellowship. In 2022, MSF South Asia, formerly MSF India, under its new scope and mandate, is expanding the scope of the fellowship and re-branding it as the Without Borders Media Fellowship.
The Fellowship hosts a reporting grant in MSF South Asia, which is co-owned with internal and external partners, to support media professionals with grants towards in-depth and high impact reporting on health and humanitarian aid issues.
Past Fellows and their work: 
Recognition
MSF Fellow Mahima Jain's story 'The Silent Pandemic of Violence Against India's Women' is a finalist at the Editorial Excellence Society of Publishers in Asia (SOPA) Awards 2022. It is selected under the Excellence in Reporting on Women's Issues (Regional) category. She was also selected as one of the top three finalists for the Thomson Foundation Young Journalist Award 2021. The story 'The Silent Pandemic' was a part of her submission. 
In case of any queries, please get in touch with:
Aditya Sharma, Media Manager
Email: media.manager@new-delhi.msf.org
Ph: +91 8011014936
MSF reserves the right to not award any fellowships if applications do not meet a basic minimum standard.
All decisions taken by MSF will be final.