Cutaneous leishmaniasis is a skin infection caused by a parasite transmitted by the bite of a phlebotomine sandfly. It is common in Pakistan, particularly amongst poor, both urban and rural populations in Balochistan and Khyber Paktunkhwa provinces. The disease is characterised by lesions on the face or any other part of the body which can result in disfiguring scars. It is easily treated by injections of either meglumine antimoniate or sodium stibogluconate, but these medications are not always available in health facilities, as treating the disease is not considered a public health priority in Pakistan.
MSF treats patients with cutaneous leishmaniasis at seven specialist facilities in the cities of Quetta, Kuchlak in Balochistan and Peshawar and Bannu in Khyber Pakhtunkhwa, providing them with safe and effective treatment and our teams in Balochistan also provide mental health support for the cutaneous leishmaniasis patients. MSF teams also increase awareness in local communities about how to prevent and treat the disease.  
In 2021, MSF teams treated almost 6,159 patients with cutaneous leishmaniasis, curing 99 per cent of them.
Amina, Asma and Abdul Raheem
Two-year-old Amina lives with parents and older siblings in the Pashtunabad area of Quetta, a dry mountainous region where sandflies are common. Amina is the third member of her family to have been treated for cutaneous leishmaniasis at MSF's clinic in the city's Benazir Bhutto hospital.
Cutaneous leishmaniasis is a skin disease spread by the bite of the phlebotomine sandfly.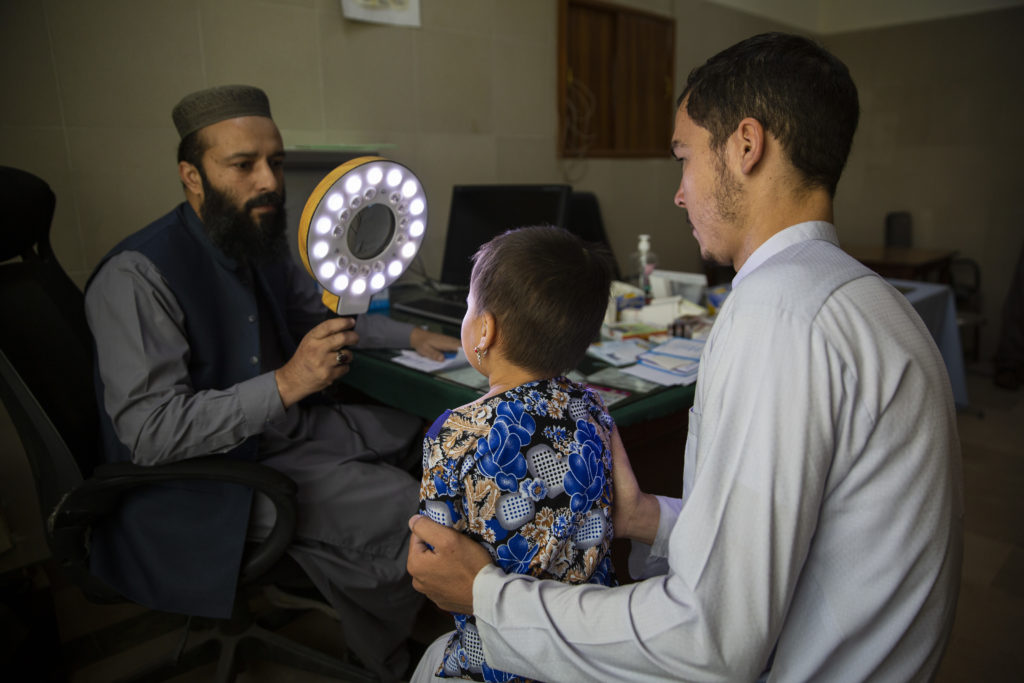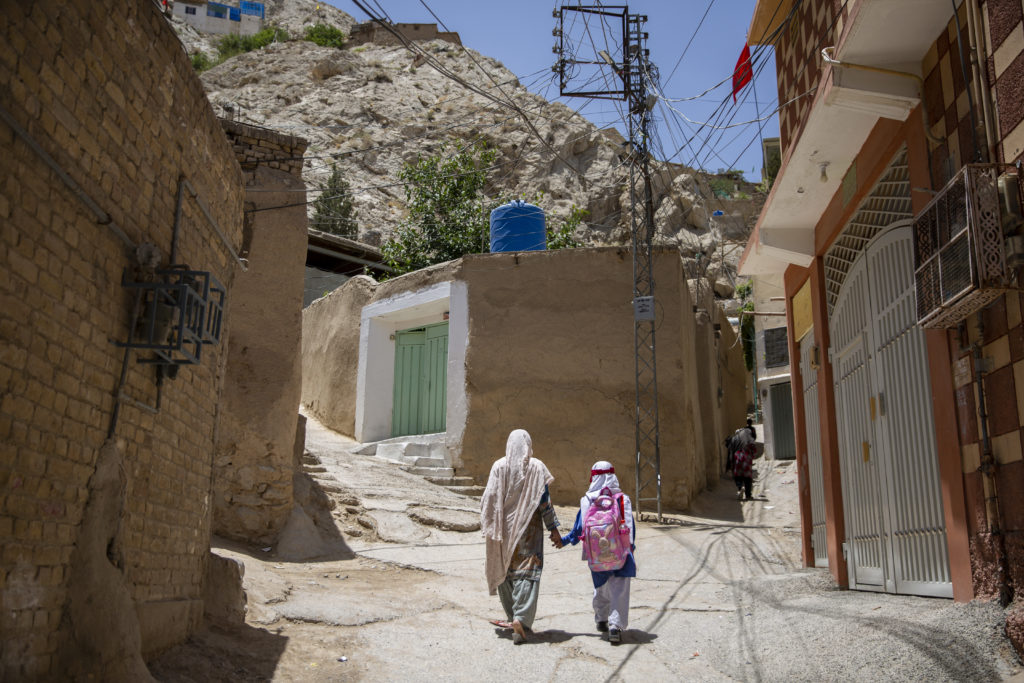 Amina has a large lesion on her right cheek that has become infected. "Amina got the lesion around seven months ago," says MSF nurse care provider Beenish Ramkishan. "It's currently five cm wide with a crust and pus. They have to visit daily for cleaning and treatment."
Amina's parents, Raheem and Noori, make carpets and homemade decorations, which her father sells in the capital, Islamabad. They struggle to afford the 30-minute motorcycle trip to bring their daughter to the clinic each day, but see it as a priority. "It is hard to come on the bike, but it is also important and compulsory to come because of our daughter's treatment," says Raheem. "We do not want to take a risk by missing it."
The family's visits to the clinic have been going on for many months, as first Raheem and then three-year-old Asma were treated for the disease.
"I also had two lesions last year and I got them treated at this clinic," says Raheem. "The lesions were cured and I have a scar now, but I'm not worried about them."
The other daughter of Raheem, Asma was diagnosed with cutaneous leishmaniasis in March 2021. "Asma had a red spot on her face and over time it grew bigger," remembers Raheem. He was told she would have to wait a month to start treatment at MSF's busy clinic. Keen for her to start treatment straight away, they went to a private clinic. "I had to buy the injections myself, which were expensive and often not available, but we managed it for our daughter's sake," says Raheem. But the treatment was ineffective and the lesion increased in size. "After six weeks of treatment there was still no effect on the lesion – instead of being cured, it had grown bigger," says her father. "Thankfully, we received a call from MSF's clinic. We rushed her here and she started treatment in March."
Asma has recovered from the disease. "The lesion was cured in April, but it left a deep scar," says her father. "We are worried about it, as it covers one side of her face, but there should be treatment to fix it."
Untreated or wrongly treated cutaneous leishmaniasis can cause severe disfigurement, leading to stigmatisation by the community. For unmarried girls, the stigma around facial scars can make it difficult for them to find a marriage partner. The only way to treat the scar is to opt for plastic surgery which is also very expensive and not always available in rural areas or small cities.
Amina's treatment will continue for 20 to 28 days, depending on how the lesion responds. Each day, she receives injections of meglumine antimoniate, after which the infected lesion is cleaned and a new dressing applied.
"I myself received treatment in this centre and many people in our neighbourhood have been cured here, so my daughter will also be cured," says Raheem.
Muhammad Idrees, aged 10 years, is in the fifth grade at school. He lives with his family in Pashtunabad, Quetta, where his father, Hafiz Abdul Rasheed, works as a labourer. Idrees has two lesions of cutaneous leishmaniasis. In the past two years Idress was using different home remedies which made the lesions worse.
"The lesions on Idrees' nose had turned into crust and pus with a secondary infection, but the lesion on his left leg was not as big. After two years he came to the MSF clinic and was diagnosed with cutaneous leishmaniasis and later the treatment was started," says MSF nurse care provider Beenish Ramkishan. "We give him injections of meglumine antimoniate."
Idrees travels 45 minutes by motorcycle from his home to the clinic each day with his elder brother, Abbas, to receive his injectable medication and have his dressings changed. Waiting outside the treatment room, Abbas says that his brother is very self-conscious about the lesion on his nose. "The lesion on his nose is big and he wears a cloth facemask whenever he goes out so that it is not visible," says Abbas. "He is shy at times because of how it appears."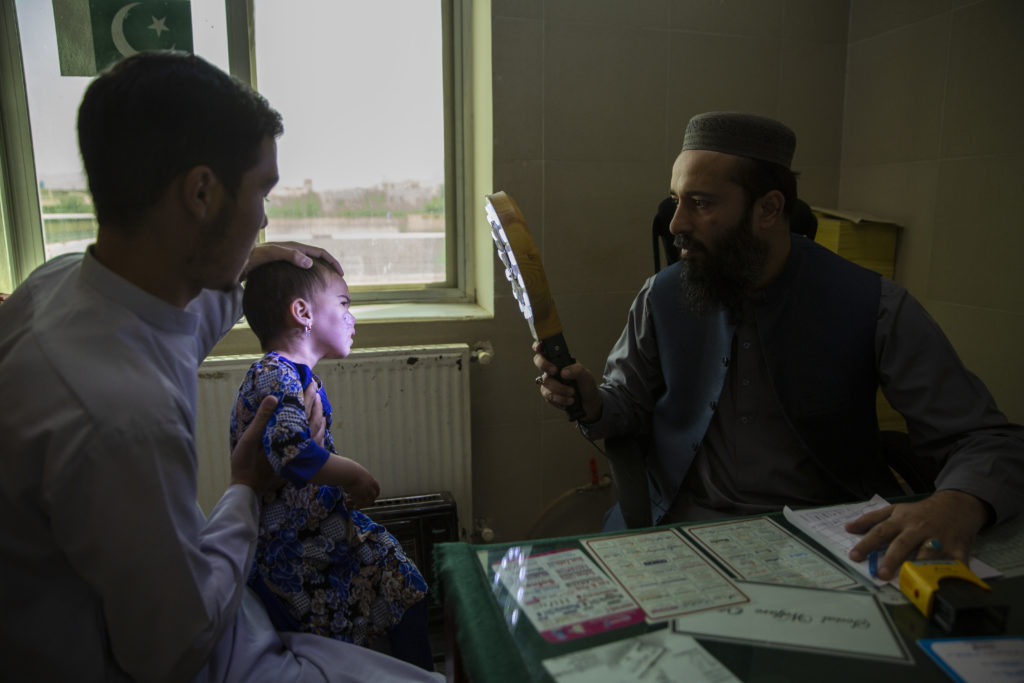 Idrees has stopped attending school after the lesion drew the unwelcome attention of his classmates. "The lesion on my nose has got worse and it doesn't look good to me," he says. "Fellow students at school also ask me questions." Classmates teased and bullied him about the lesion, try to punch him on the nose. It got so bad that Idrees decided to stay at home. "I have stopped going to school but I will return to school once my lesion has healed," he says.
Idrees says he is upset not to be at school, and thinks about it a lot, but has found other ways to spend his time, such as playing football, playing games on a mobile phone and revising his school work.
His family are very supportive. Idrees' mother says: "He has decided to not go to school until the lesion is healed, and we support his decision. He's a good boy and takes care of his work. He also helps me at home with the chores."
Idrees is on day four of his 20 to 28 days course of injections and feels optimistic that the end is in sight. "I felt stressed when I first saw myself in the mirror," he says, "but thankfully my treatment has started and now I don't feel as worried. I am hopeful that this lesion will heal soon and I will be able to go back to school. I want to do everything I can for my mother and make her wishes come true."
Patient stories from Peshawar
Six months ago, 30-year-old Gulnaaz noticed a small bump on her finger. Too busy to pay it much attention, she got on with the job of running her household and caring for her husband and three young children.
"I thought it was just a mosquito bite and would go away," remembers Gulnaz. "It was a small bump on my finger, but within two or three weeks it had started to grow bigger. It started being painful to do household chores like washing clothes, cleaning the house and cooking meals for the family."
Gulnaz became increasingly self-conscious about the lesion on her hand, which she tried to cover up when out in public. Anxious about what people thought, she stopped attending social events.
"When people saw the wound on my hand, they started to avoid me," she says. "They wouldn't say anything directly, but I could feel it. I also stopped going to family occasions and marriage ceremonies and I hid the lesion with fabric."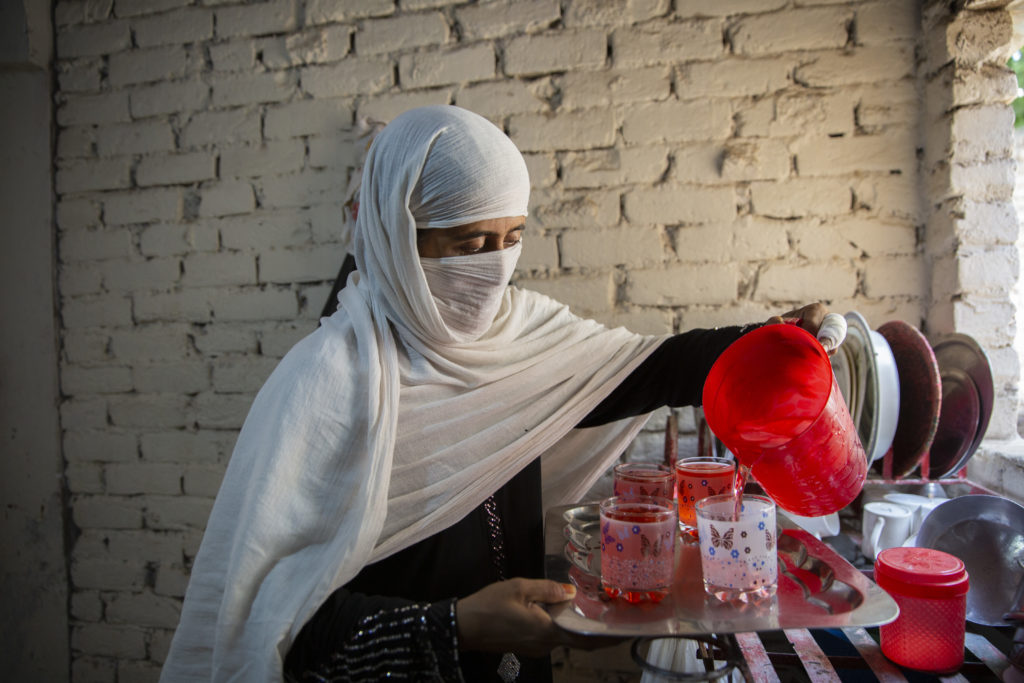 Finally, she went to the local hospital, where she was diagnosed with cutaneous leishmaniasis, a skin disease spread by the bite of an infected phlebotomine sandfly, an insect common to the arid, mountainous region of Khyber Agency where she lives. Although the disease is not life-threatening, if left untreated it can have an overwhelming impact on people's daily lives, leaving them with disfiguring scars on their face or body and exposing them to stigma.
Gulnaaz's husband, the family's sole breadwinner, works as a cleaner in a nearby college. Money is tight, the family live in a house without running water and there is no health facility nearby. "My village where I live, in Bara, doesn't have running water available and the health facilities are also far away," says Gulnaaz. "We have to travel long distances for the basic necessities of life."
Gulnaaz sought medical advice at Bara DHQ hospital Dogra, around 46.6 kms from her home. She started on treatment, although she struggled to afford the cost of the medication. Despite the treatment, her lesion did not heal.
Gulnaaz's experience of seeking treatment for the skin disease was typical. Most people infected with cutaneous leishmaniasis live in poor, rural areas, far from health facilities. Those who can afford to travel for treatment may find the medications they need are not in stock, or are too expensive, while health staff are often untrained in recognising and treating the disease, which is not a public health priority in Pakistan.
Finally Gulnaaz decided to travel to Peshawar, where MSF has a clinic in Naseer Ullah Khan Babar memorial hospital specialised in the treatment of cutaneous leishmaniasis. Staying at her brother's house in the city, she was able to embark on a six to eight weeks long course of injections of antimonial drugs (meglumine antimoniate) – the only effective treatment so far to successfully treat this species of cutaneous leishmaniasis  – provided free of charge by specialist health staff.
"The treatment here is good in Peshawar," says Gulnaaz. "There is another child in our family who has a lesion on his nose. The family is visiting the local practitioner who has given them antibiotics and ointments. I know it won't work as the medical people are not trained enough. That's the reason I decided to move to my brother's place for my treatment."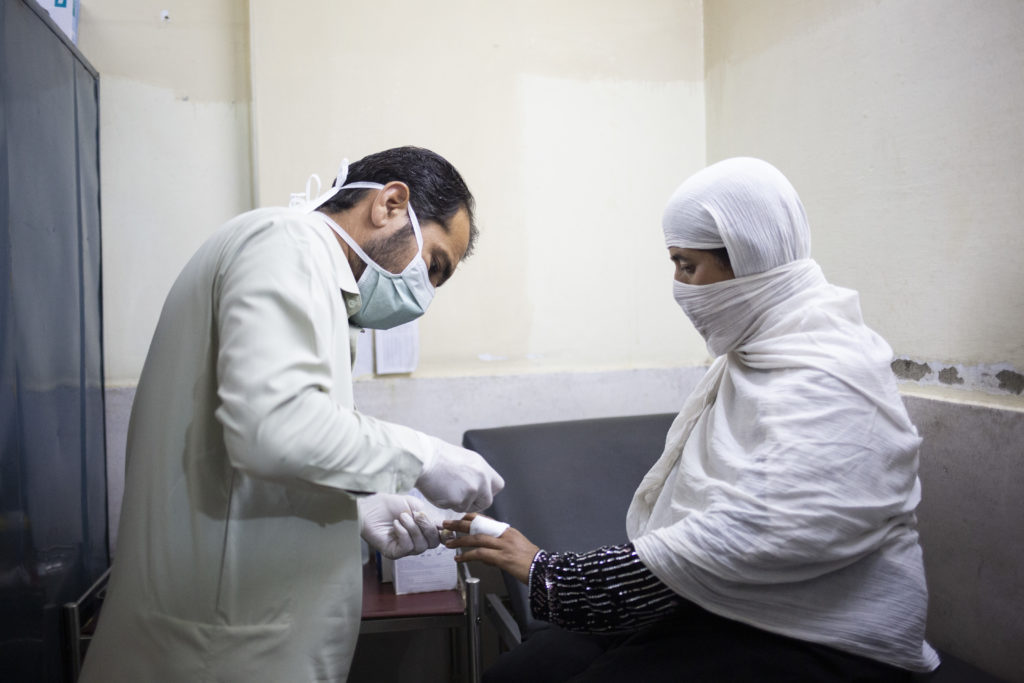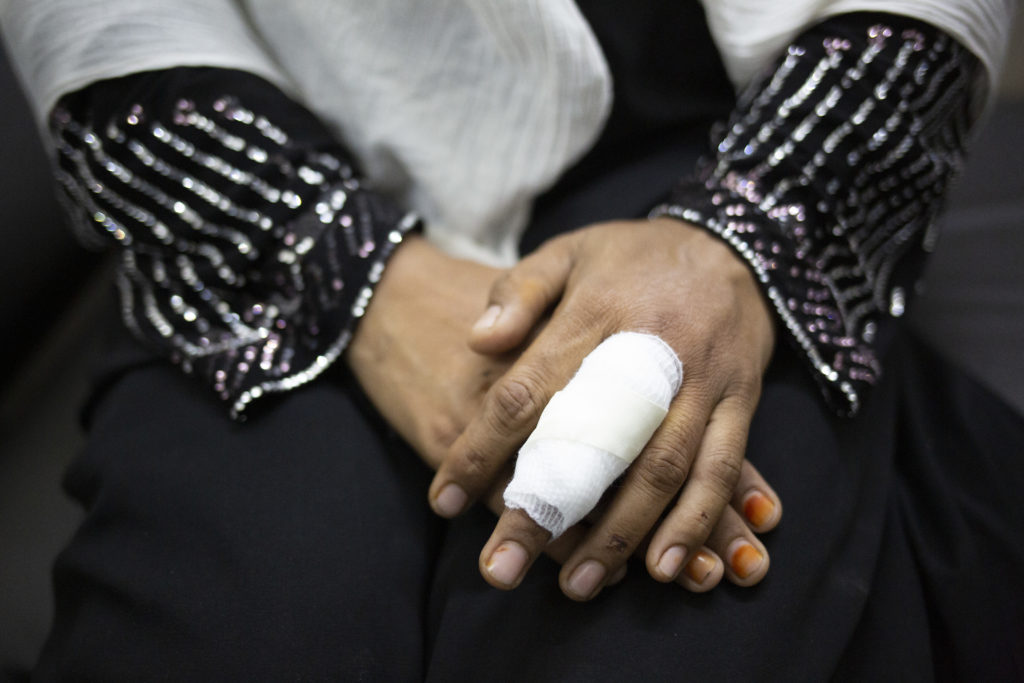 Gulnaaz visits MSF's clinic twice a week to receive an injection and to have the lesion cleaned and dressed. She also attended a health awareness session to learn everything she needed to know about caring for the lesion and preventing future infections
"Previously, Gulnaaz used many medications and ointments on the lesion, which made it worse," says Haris, MSF health and hygiene promoter. "When she arrived at the MSF clinic, she was made aware through our health awareness session on the care of lesions and prevention of the disease."
Gulnaaz's only regret is that she did not start her treatment earlier, before it became infected and painful. "The lesion was very infected and I was facing problems in my day-to-day work," she says. "Thankfully, the lesion has started to improve with the treatment. I do believe it will be cured and I would like to tell everyone with this condition to please get it treated in a timely manner."
MSF treats patients with cutaneous leishmaniasis at seven specialist facilities in the cities of Quetta, Kuchlak in Balochistan and Peshawar and Bannu in Khyber Pakhtunkhwa, providing them with a steady supply of safe and effective medication and with mental health support. MSF teams tends to increase awareness in local communities about how to prevent and treat the disease.  In 2022, MSF treated 3,481 patients in Balochistan and 1,645 patients in Khyber Pakhtunkhwa for cutaneous leishmaniasis.