By Dilip Bhaskaran, Project Coordinator, Mumbai COVID-19 project
We have been collaborating with the Municipal Corporation of Greater Mumbai (MCGM) to co-manage dedicated Jumbo COVID-19 Care Centre in Bandra Kurla Complex (BKC). MCGM is doing a great job and we started this collaboration during the first wave providing patient care. Now, during the second wave, our role is to improve the quality of care for mild/moderate cases and patient dignity in the BKC facility.
The 2,000-bedded hospital is split into 2 phases, having 1,000 beds in each. Right now we're managing six wards in Phase 1 and four wards in phase 2 and every ward has 28 beds in it.
"Human resources is the biggest challenge, particularly for nurses. We're just not able to find enough nurses."
Even though we are a small part of big operation, our job is very important. Increasing the quality of care these patients receive and managing them well with oxygen in the facility means fewer people will need to go on to ventilator care in ICUs.
Working with everyday challenges
Working on quality of care has two aspects: medical and logistic. On the medical front, the biggest issue is supporting and training new and junior medical staff in the public sector. After the first wave, a lot of doctors moved on to new positions. So now, we're working with lots of new doctors that are just out of college and need training in patient care and bedside management. It's the same with pharmacy management and nursing care – the newer staff need supervision. HR is the biggest challenge, particularly for nurses – we're just not able to find enough nurses.
On the logistical front, there is also a lot to be done. Infection, prevention control (IPC) and, water and hygiene needs to be managed. We're in the middle of summer and it gets very hot inside the tent. Patients are staying in makeshift wards where the temperature can reach more than 40 degrees. We're trying to help step by step to drastically improve the quality of care.
Meanwhile, the medics are working in PPE kits for more than six hours in temperatures higher than 40 degrees and in those conditions both patients and healthcare workers lose a lot of water and can become dehydrated. So, we're also trying to help resolve this issue too.
There are lots of formalities involved and getting problems solved takes a lot of collaboration and work.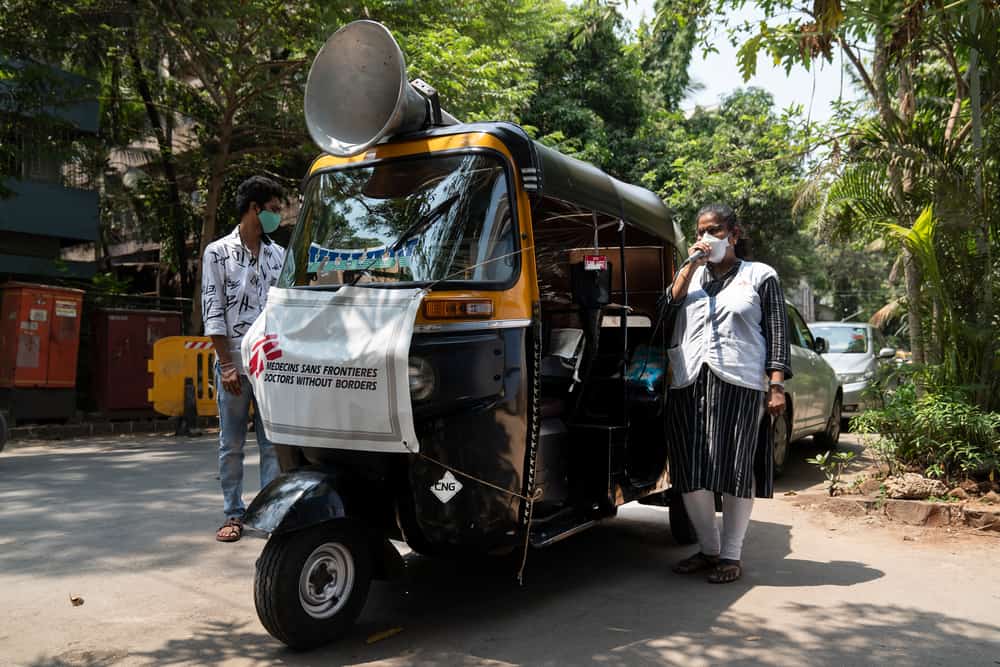 Helping the community
Outside of the hospital, we're also expanding our work in the community.  We've been working in M-East ward for a long time, running a drug-resistant tuberculosis project. Mumbai is divided into 24 administrative wards and this is the one where there are a lot of needs. It's a densely populated area and social distancing is a real challenge.  The population is over 800,000 and more than 70% of people here live in informal settlements. These are the most vulnerable communities and our target population for awareness and preventive activities.
Our health promotion teams are putting more efforts to promote COVID-appropriate behaviour and we're also just about to restart our WASH intervention – cleaning public toilets.  These community toilet blocks can be used by over 1,000 people daily and are in terrible condition. So, these are sites where infection can easily spread.
We are doing well as a team. It is coordinated action and all team members are equally contributing to achieving the set objective. I'm very fortunate to be working with such a great team.