An extraordinary year in images
2020 has been a year like no other. This collection of images, from December 2019 to November 2020, documents a year in which MSF teams around the world responded to crises, emergencies and pressing healthcare needs.
A diverse range of staff, local and agency photographers captured our teams at work responding to outbreaks of measles and tuberculosis; plucking people from the Mediterranean Sea; providing assistance to people who have been displaced or who have been caught up in conflict; giving medical care to people in the wake of disaster, such as the Beirut explosion or storms in El Salvador.

But it is the COVID-19 pandemic which resonates. This collection includes images from our response to the pandemic from around the world. But, strikingly, they cover a number of countries in which MSF teams responded on a scale which would have been unthinkable before the pandemic: nursing homes in Spain and the United States; hospitals in Brazil and Switzerland; refuges for vulnerable people in Belgium and France.

This selection of 53 images tell just some of the multitude of stories of our medical and humanitarian activities in over 80 countries over the last 12 months.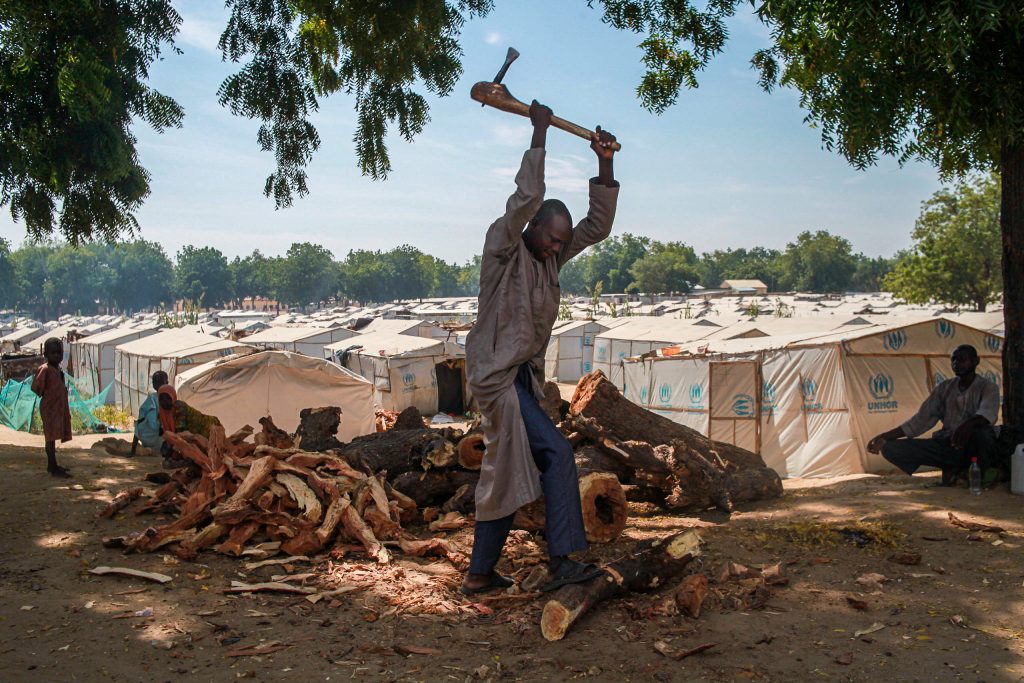 A resident of a camp for internally displaced people in Bama, Borno state, chops firewood. It is a precious commodity for many displaced people in Borno and is often traded for food and other essential items. Without fire and fuel, people in the camps cannot cook the food rations they receive. Nigeria, December 2019.
SCOTT HAMILTON/MSF
An X-ray taken at MSF's emergency trauma hospital in the Tabarre area of Port-au-Prince. A bullet is lodged in the patient's spine. Haiti, December 2019.
NICOLAS GUYONNET/MSF
A young man seeks refuge in Itota, South Kivu, after being raped by armed men in a nearby village. Democratic Republic of Congo, December 2020.
DAVIDE SCALENGHE/MSF
Patients from the besieged city of Marawi and neighbouring towns in Lanao del Sur province visit the regional health office to have free medical check-ups and consultations. Philippines, January 2020.
VEEJAY VILLAFRANCA
Two years on from the siege of the capital, Marawi, displaced children play in the open fields near the temporary shelter in Sagunsungan, Lanao del Sur. Philippines, January 2020.
VEEJAY VILLAFRANCA
Zakia, 32, just after giving birth to twins at MSF's 55-bed maternity wing at Dasht-e-Barchi hospital, west Kabul. Afghanistan, December 2019.
SANDRA CALLIGARO
An unknown number of assailants stormed the maternity wing of Dasht-e-Barchi hospital in Kabul on Tuesday 12 May, at around 10 am local time. They carried out an assault that lasted for approximately four hours. During the attack, 16 mothers were systematically shot dead. An MSF midwife, two children aged 7 and 8, and six other people present at the time of the attack were also killed. Afghanistan, May 2020.
MSF
A local Ministry of Health doctor walks in front of Aydarken hospital in the southwestern Kadamjay region of Kyrgyzstan. For the past four years, MSF has provided medical assistance in Kadamjay, where rates of some chronic diseases are among the country's highest. Working closely with the Ministry of Health, our teams support district health authorities in the screening, diagnosis and prevention of ailments including diabetes, hypertension and anaemia. Kyrgyzstan, February 2020.
MAXIME FOSSAT
Refugees and migrants walk between Velika Kladuš and Bihać, near the border with Croatia. Bosnia and Herzegovina, February 2020.
KRISTOF VADINO
A migrant shows the wounds inflicted on him by the Croatian police. Two days earlier, he had come back from the Bosnian border with Croatia to a nearby squat in an abandoned former factory. Bosnia and Herzegovina, February 2020.
KRISTOF VADINO
Mohammed, from Mali, has lived in Libya since 2015. He wants to return to Mali but doesn't have enough money. He came to escape the conflict in his country and to find work to sustain his family. He is a labourer for the municipality but, as his work is badly paid, he also collects scrap metals in a dump. He receives 1 Libyan dinar (€0.64) for each kilo of metal he collects. Libya, January 2020.
GIULIO PISCITELLI
A Somalian refugee in his accommodation in the district of Gorgi, south of Tripoli. Libya, January 2020.
GIULIO PISCITELLI
MSF and SOS MEDITERRANEE teams during a simulation exercise of search and rescue at sea between Marseille and the central Mediterranean. February 2020.
ANTHONY JEAN/SOS MEDITERRANEE
MSF and SOS MEDITERRANEE teams on board the Ocean Viking rescue 84 people from a dangerously overcrowded wooden boat, 71 nautical miles off the coast of Libya. Mediterranean Sea, February 2020.
MSF/HANNAH WALLACE BOWMAN
Phenduka Mtshali, a patient with drug-resistant tuberculosis (DR-TB), speaks with an MSF staff member at her home in Mbongolwane. This rural area of South Africa's KwaZulu-Natal province is the epicentre of South Africa's HIV and TB epidemic. MSF is piloting a model of care there to prevent the spread of TB. South Africa, March 2020.
MSF/TADEU ANDRE
Abandoned and destroyed buildings in Ariha district in Idlib. The district resembles a ghost town, as civilians have fled towards the Turkish border because of attacks by the Bashar al-Assad regime and its supporters. Syria, February 2020.
MUHAMMED SAID/ANADOLU AGENCY VIA GETTY IMAGES
A young girl looks through a fence in Al-Hol camp, eastern Hassekeh governorate. Syria, March 2020.
RICARDO GARCIA VILANOVA
Yvonne and her son Maxime in the measles ward of Bossangoa hospital. Yvonne recognised her son's symptoms from the last epidemic, when she was a child. She says traditional medicine was the only option at that time, as there were no NGOs, doctors or hospitals in the region. Although the situation has improved, Yvonne says it's not enough and children are still dying in her community. Central African Republic, March 2020.
JAMES OATWAY
Salamatou brings her children to be vaccinated against measles and pneumococcal infections in Besson during MSF's vaccination campaign in the Baboua-Aba health district. Salamatou and her family started a new life in the local community five years ago, after fleeing from their village on the border with Cameroon. Armed groups targeted their community and killed Salamatou's father. Central African Republic, March 2020.
JAMES OATWAY
Measles vaccines are taken by motorbike from Lisala to Boso Manzi, Mongala province, a hard-to-reach northern area badly hit by a measles epidemic. MSF sent emergency teams to set up treatment and vaccination activities. Democratic Republic of Congo, February 2020.
MSF/CAROLINE THIRION
MSF surgeons provide care to a patient at St Mary Hospital in Bamenda, Northwest region. He was attacked on the road by armed men, who tortured him and shot him five times. Cameroon, March 2020.
ALBERT MASIAS/MSF
A hospital set up by MSF to treat COVID-19 patients in Leganés. Spain, March 2020.
OLMO CALVO
Local firemen disinfect Residencia Nuestra Señora de las Mercedes, a care home for the elderly in El Royo, Soria province. Spain, April 2020.
OLMO CALVO/MSF
The local fire brigade helps during the relocation of residents at the elderly care home Residencia Nuestra Señora de las Mercedes in El Royo, Soria province. Spain, April 2020.
OLMO CALVO/MSF
A patient receives a visit from her family at a COVID-19 centre MSF opened in Matamoros, Tamaulipas state, in coordination with the local health authorities. Mexico, April 2020.
MSF/ARLETTE BLANCO
In the intensive care unit of Geneva's university hospital, where MSF supported the medical response to COVID-19. The focus was on managing patients with the new coronavirus and organising medical teams and services in the hospital. Switzerland, April 2020.
NORA TEYLOUNI/MSF
A lack of re-usable aprons prompted MSF to set up 'washing zones' as part of our COVID-19 response in three hospitals in Antwerp. Through our experience in other contexts ─ for example, Ebola ─ we have a process for cleaning and disinfecting re-usable aprons. We washed, disinfected and dried around 500 aprons a day in each of the Antwerp hospitals. Belgium, April 2020.
MSF
In April, MSF opened a shower trailer in Manhattan, New York City, offering free warm showers to the homeless and other people lacking access to hygiene facilities. Visitors received free toiletries, as well as clean socks and underwear. United States of America, May 2020.
SPENCER PLATT/GETTY IMAGES
Sara, a volunteer from the Plateforme Citoyenne de Soutien aux Réfugiés, in the washing and disinfecting area of our COVID-19 treatment facility for vulnerable people in the Tour & Taxis neighbourhood of Brussels. The support of volunteers from other organisations was key to this project. Belgium, April 2020.
ALBERT MASIAS/MSF
Workers at Al-Sahul COVID-19 treatment centre, Ibb governorate, carry an oxygen cylinder to the intensive care unit. A patient with moderate to severe COVID-19 symptoms needs around six cylinders a day and any interruption in the provision of oxygen can be deadly. Yemen, July 2020.
MSF/MAJD ALJUNAID
María Turcios and her five children swam to save their lives on 31 May during the devastating cyclone Tropical Storm Amanda. The water reached the roof of their house in San Salvador and broke the door hinges. El Salvador, June 2020.
VICTOR PEÑA/EL FARO
A young woman prepares an evening meal for her family in an open-air cooking area of Abagana camp for displaced people in Benue state. Nigeria, June 2020.
MSF/SCOTT HAMILTON
Soma Sediqi, her husband and two babies left the violence and bombings in Kabul, Afghanistan and arrived in Moria camp on the Greek island of Lesbos in 2018. The family stayed in a container with 20 other people for five months before being transferred to Athens. But after being granted refugee status, they were told to leave their accommodation. Greece, August 2020.
ENRI CANAJ/MAGNUM PHOTOS FOR MSF
Misria, 33, from Afghanistan, had been living in Moria camp on the Greek island of Lesbos for 10 months when this photo was taken. She said she felt exhausted and deeply sad, that her heart was 'crying all the time'. She was unable to take medicine for her mental health as she was five months pregnant. Greece, July 2020.
ENRI CANAJ/MAGNUM PHOTOS FOR MSF
An MSF team at our care centre for mild and moderate cases of COVID-19 in São Gabriel da Cachoeira helps 99-year-old patient Antonio Castro. He had breathing difficulties and was kept under observation for a few days. Brazil, July 2020.
DIEGO BARAVELLI
MSF and municipal health staff return to the boats they used to reach a community living on the shores of Lake Mirini in the Amazon region. They have carried out house-to-house routine screening and vaccinations. Brazil, July 2020.
DIEGO BARAVELLI
A municipal health worker talks to a family during house-to-house visits on the shores of Lake Mirini in the Amazon region. Brazil, July 2020.
DIEGO BARAVELLI
Abu Siddik (left) is from Rakhine state in Myanmar. He lives with his family in one of the camps in the Cox's Bazar district of southeastern Bangladesh, where around 860,000 Rohingya refugees are crammed into 26 square kilometres of land. Here, he is at MSF's Kutupalong hospital with his five-year-old son Rashid Ullah. The hospital has served Rohingya refugees and the local Bangladeshi community since its opening in 2009. Bangladesh, August 2020.
HASNAT SOHAN/MSF
An MSF watchman wearing personal protective equipment on duty at the entrance of our Women's Hospital in Peshawar. During the COVID-19 pandemic, he checks the temperature of all staff entering the hospital for work. Pakistan, September 2020.
MSF/NASIR GHAFOOR
Four-year-old Hamza receives wound care treatment at MSF's medical point in Karantina, Beirut. We set up medical points in the Mar Mikhael and Karantina neighbourhoods, two of the areas most impacted by the blast. Our team provides wound care (dressings), rapid consultations for people with non-communicable diseases, as well as psychological first aid. Lebanon, August 2020.
MOHAMAD CHEBLAK/MSF
Beirut residents cover their windows with plastic sheets. Thousands of apartments and shops were damaged in the 4 August explosion and the streets were covered in debris and broken glass. Lebanon, August 2020.
MOHAMAD CHEBLAK/MSF
Following rescue operations on 23 and 24 August, Sea-Watch 4 has 201 survivors on board, denied a place of safety. As EU and maritime authorities again turn a deaf ear to the cries of people in distress at sea ─ and despite being over six hours away ─ the ship has altered course to transfer people from the Louise Michel, the only other search and rescue vessel still active in the central Mediterranean. August 2020.
MSF/HANNAH WALLACE BOWMAN
Souleman, his wife Layla and their two-year-old son Cillian were rescued on 23 August from a rubber boat in distress during the maiden voyage of the Sea-Watch 4. They were disembarked to a quarantine ferry in Palermo, Sicily on 2 September. Mediterranean Sea, August 2020.
HANNAH WALLACE BOWMAN/MSF
The day after a fire destroyed most of Moria refugees camp on the Greek island of Lesbos, another fire broke out and the totality of the camp was burned down. Greece, September 2020.
ENRI CANAJ/MAGNUM
Refugees and asylum seekers leave Moria camp on the Greek island of Lesbos, the day after a fire destroyed most of it. Greece, September 2020.
ENRI CANAJ/MAGNUM
Following heavy floods that threatened the lives of thousands of people in the Greater Pibor Administrative Area, a boy is weighed at MSF's mobile clinic in Lanyeri payam. The clinic brings life-saving medical care to this area where the flooding has made roads impassable. South Sudan, September 2020.
TETIANA GAVIUK/MSF
A boatman crossing the Niger river in Timbuktu region, northern Mali, during the mass measles vaccination campaign carried out by MSF and the Ministry of Health. Mali, September 2020.
MSF/MOHAMED DAYFOUR
Mariam Maïga (left) has brought her son to be vaccinated against measles during a campaign carried out by MSF and the Ministry of Health in Timbuktu region. The campaign aims to vaccinate 95 per cent of children aged between six months and 14 years against measles. Mali, September 2020.
MSF/MOHAMED DAYFOUR
Adelia Patterson, wellness and life enrichment director at Focused Care at Beechnut longterm care facility, plays her ukelele while she and the residents sing. MSF conducted infection prevention and control training and mental health and wellness training with medical and non-medical staff at Beechnut and other nursing homes in Houston, Texas, between July and October. United States of America, October 2020.
CHRISTOPER LEE
Eighty-six-year-old Chahadeh Tabbal and his daughter Hoda, 60, in their home in the Geitawi neighbourhood of Beirut, two months after the devastating explosion that tore through the city. Their windows were shattered in the blast, but they don't have the money to repair them. Lebanon, October 2020.
MOHAMMAD GHANNAM/MSF
On the International Day of the Rights of the Child, around fifty unaccompanied foreign minors gather in front of the Ministry of Solidarity and Health in Paris. With MSF, local organisations are asking for the right to accommodation that would also allow the young people to be confined and to protect themselves against COVID-19. Around one hundred unaccompanied foreign minors are still forced to survive on the streets of Paris. France, November 2020.
NICOLAS GUYONNET/MSF/MSF
The Hamadayet border crossing, where refugees from Ethiopia cross the river into Sudan. New arrivals bring whatever belongings they can carry with them; some have their livestock, others left with nothing. Hamadayet, November 2020.
JASON RIZZO/MSF