From a seven-year-old child to a mother of two children, drug-resistant tuberculosis is rampant among all age groups. Globally, TB is the leading killer among infectious diseases. One-third of these deaths occurred in India. Patients either do not receive timely, accurate diagnoses or are unable to access the new drug regimen of Bedaquiline and Delamanid. The diagnosis of TB in children is more challenging than in adults due to less reliable diagnostic tests. Around one-quarter of a million children die of TB in the world every year. 
It is not just the medical treatment but psycho-social support, infection prevention control measures and public awareness to battle stigma, especially among peer groups, that play an equally important role in treating TB.
Doctors Without Borders/Médecins Sans Frontières (MSF) brings you stories from three generations: a girl in paediatric care named Vaishnavi, a 26-years-old man Chetan who aspired to build a prosperous career abroad, and a 33-years-old TB survivor Namrata who is now a community health worker with MSF. While Vaishnavi's story reminds us of the challenges that still remain in diagnosing paediatric TB, Chetan's regular sittings emphasize the need and importance of a disciplined lifestyle to overcome the disease. Namrata's case inspires fellow TB patients to resume a healthy life as she is a true example of how resilience, strong willpower coupled with a robust model of care can help patients become peer educators for society.
PHOTOS BY PREMANANDA HESSENKAMP
Namrata
A journey from being a tuberculosis patient to a peer-educator
Namrata's case proves the old adage – consistency is key. Consistency and discipline with one's routine, healthy lifestyle and medication can cure any condition including drug-resistant tuberculosis (DR-TB).
In 2016, Namrata was doing a daycare job at one of the international schools in Chembur, Mumbai. Five months into her job, she started experiencing recurring fever, cough, loss of appetite, body ache and chest pain. Having had two abortions in the past, she thought it is due to the resulting weakness that she is not feeling well.
Namrata's family did not have enough money to even afford basic diagnostics tests like X-Ray and blood tests.  After visiting many private hospitals over the next few months, she finally reached the Govandi Shatabdi hospital where she was diagnosed with Multi-Drug Resistant TB and was initiated on treatment in 2017. Namrata expected a fast recovery but to her disappointment, she was told it would take two years with proper medication and nutrition to cure her DR-TB. Doctors Without Borders/Médecins Sans Frontières is co-managing the TB OPD in Govandi Shatabdi Hospital in partnership with the National TB Elimination Program and Municipal Corporation of Greater Mumbai.
"In OPD, I received proper counselling regarding how to take medicines, maintaining proper hygiene and infection control, nutritional diet and ways to manage the side-effects, including timely consultation with the doctors if the side-effects worsen". Namrata suffered from severe side effects such as moderate loss of vision and vomiting. She decided not to take these medicines anymore but from constant support from MSF counsellors, she was able to complete her treatment.
As a woman, Namrata had to shoulder many responsibilities including household duties. Her DR-TB diagnosis did not go down very well with her family members. Due to the strong side effects of the medicines, she would often feel lethargic and fatigued most of the day. As a result, she was advised to rest. Her family thought she is being indifferent, ignorant and not ready to devote time to her household chores. They always wished for her to adapt to being the 'quintessential' daughter-in-law.
Namrata explained there was an atmosphere of resistance and ignorance towards her initially as the family was unaware of the severity of tuberculosis and the side effects associated with the treatment. The counsellors in the OPD also spoke to family members, to ensure that she receives necessary support from her family.
"Whenever a negative situation prompted me to not take my medicines, I would think about the future of my children. I adopted creative ways of consuming medicines. The tablets would have a very pungent smell. I would add the tablet to my favourite food - fruit juices, chocolates and bananas to make the process easier. I used many mind diversion tactics such as: having medicines while watching favourite TV programs and Bollywood movies, while reading books and newspapers. I read stories of inspiring women such as Jhansi ki Rani and referred to Indian history to find inspiration."
Namrata mentions that she thought of ending her life twice or thrice during the treatment for which she received mental health support. She tells us that the medicines affect the brain directly, it is even difficult to recognize loved ones.
During one of her counselling sessions with MSF, Namrata received appreciation for following her routine thoroughly. That gave her the motivation to complete her treatment. In 2017, Namrata felt that it was now her duty to give back to other TB patients in the society so she applied for the peer-educator position at MSF.
In June 2018, Namrata completed her treatment and has been DR-TB free since then. From January 2019,  she started conducting support group meetings for other TB patients. She would educate them about nutrition, side effects and discipline, based on her own experience.
TB requires a lot of mental strength. Through her social work, Namrata wants to support and strengthen as many patients as possible, so that they can become a part of a wider community of health workers and educators.
Vaishnavi
7-years-old extra pulmonary drug-resistant tuberculosis patient
Vaishnavi, a seven-year-old girl plays with her doll in a small makeshift home as her mother tries to feed her. The 32-year-old mother Vishakha needs to make sure that Vaishnavi eats well so that she can take her medicines on time.
Vaishnavi is an extra pulmonary drug-resistant tuberculosis (DR-TB) patient since 2020.
One wonders what could have infected a five-year-old who is shy, introvert and stays at home most of the time. There is no family history of tuberculosis either. However, two years ago she started having frequent fever and her appetite decreased significantly.
When Vishakha took her daughter to a local doctor, the X-Ray results revealed Pleural effusion. Pleural effusion, sometimes referred to as "water on the lungs," is the build-up of excess fluid between the layers of the pleura outside the lungs. The pleura are thin membranes that line the lungs and the inside of the chest cavity and act to lubricate and facilitate breathing.
The medicines prescribed to Vaishnavi did not help with her effusion. Fortunately, Vishakha's neighbour told her about the Shatabdi hospital in Govandi. Shatabdi referred Vaishnavi's case to Doctors Without Borders/ Médecins Sans Frontières (MSF) as she was not meeting their inclusion criteria for the newer drugs. Although it would take the mother and daughter 1.5 hours by train to reach Govandi every time, it was a very small price to pay when compared to Vaishnavi's future.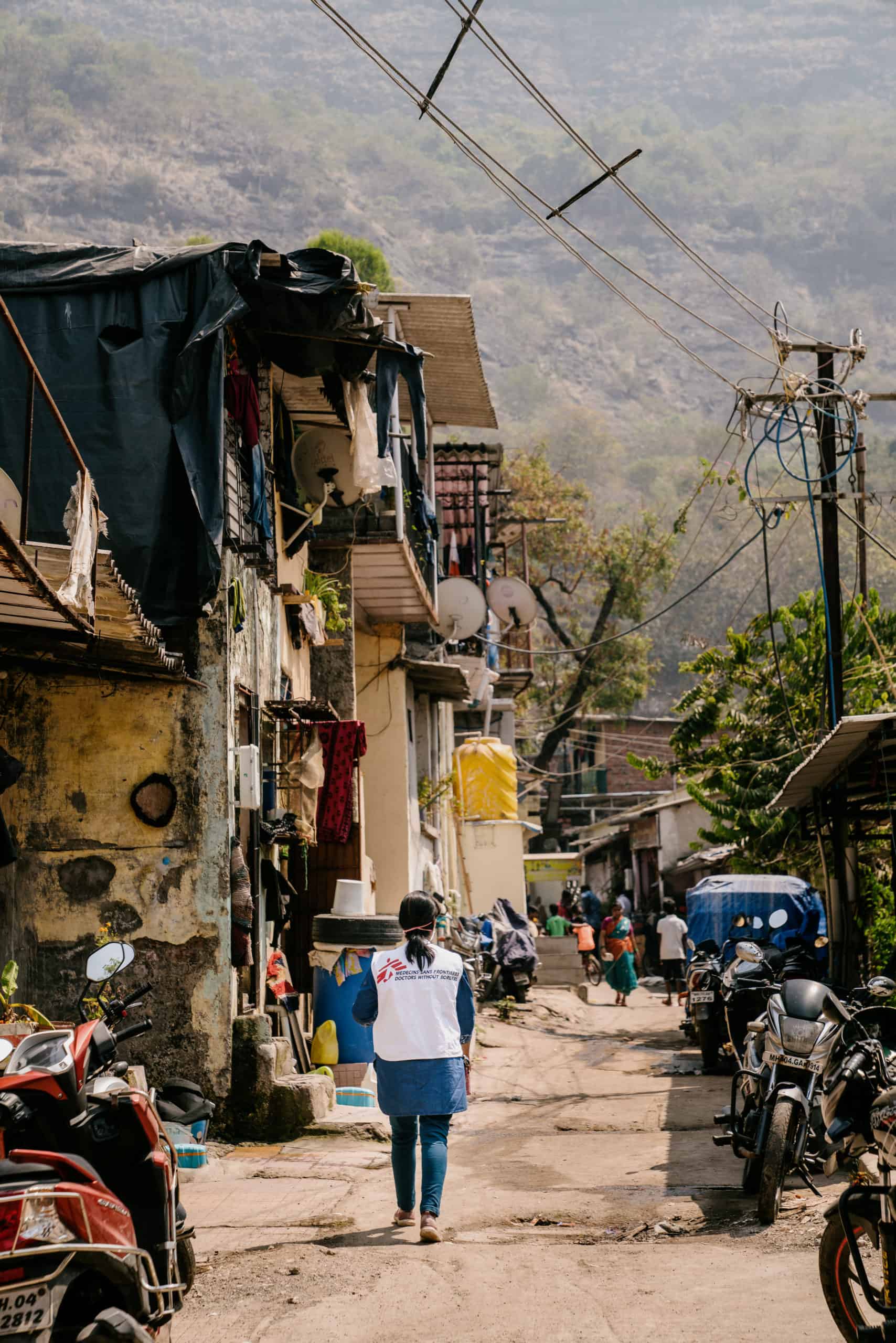 She went to several public and private facilities where the injectables given to Vaishnavi were painful. Thankfully, she now consumes oral medicines. TB Guidelines do not permit the Bedaquiline and Delamanid regimen for children below five years of age. However, without these new drugs, it is difficult to treat TB, especially in children. At MSF, she is prescribed Bedaquiline and Delamanid pediatric formulations according to her weight and her treatment has shown positive effects in a short while.
The mother's biggest concern is that nobody discloses or talks about their condition if anyone in the family is living with TB. The children infected with the disease continue to play with others in the locality and that's how it keeps spreading from one person to another. Vishakha said she was counselled properly. They were advised to avoid crowded areas so as to not infect others until the culture becomes negative.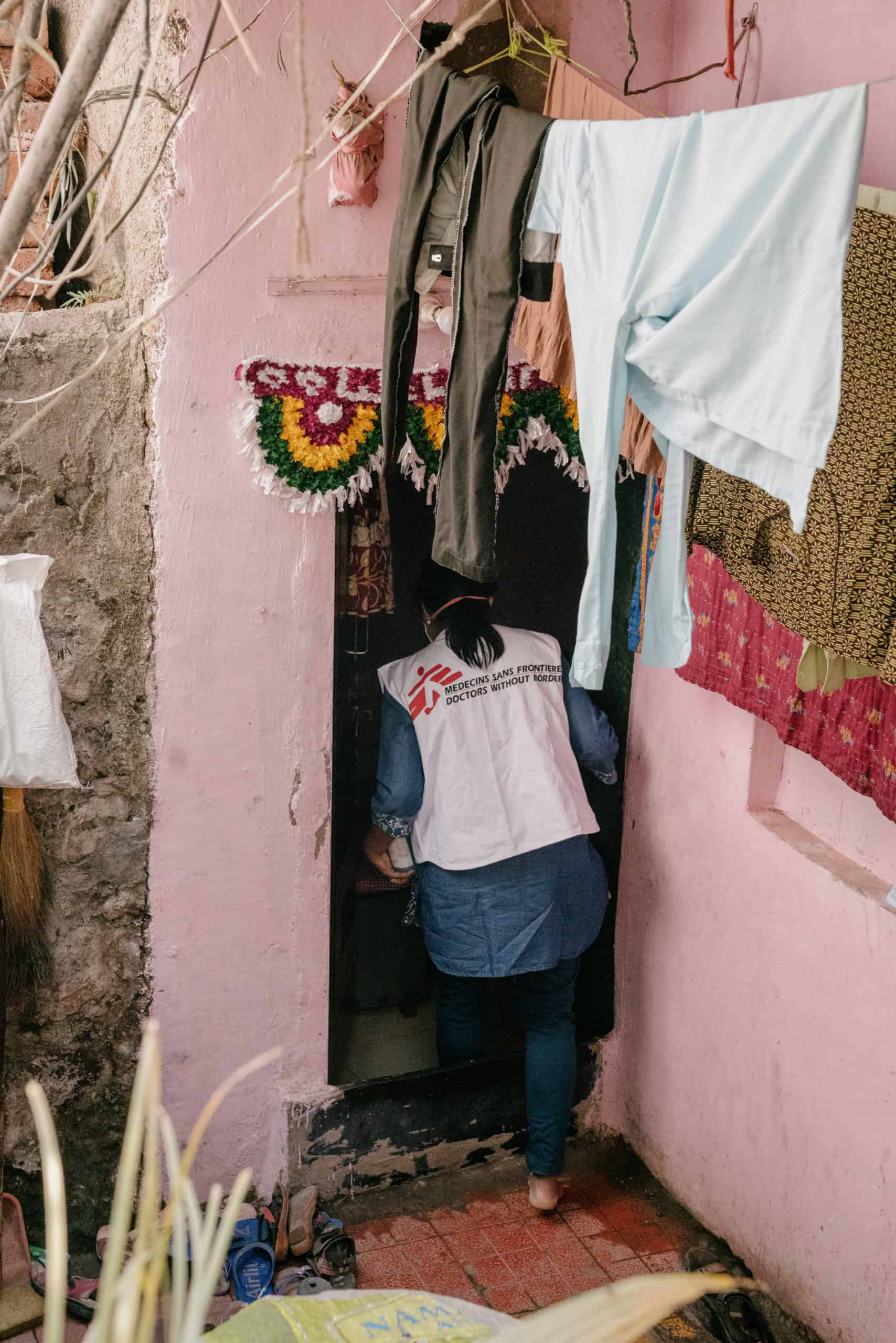 Even the MSF nurses agree that wearing masks during COVID-19 has had a positive effect on the society from a TB perspective. The stigma around Tuberculosis is so strong in the society that even healthcare volunteers have to conceal their identities while paying a visit to Vaishnavi's home. The mother says if people in the community find out, it will be troublesome for their family.
The nurses tell us that there is a need for an awareness campaign even among adolescents to sensitize and educate them about tuberculosis.
Currently, Doctors Without Borders/ Médecins Sans Frontières (MSF) covers three elements as part of their community outreach activity:
Contact tracing
Patient counselling
Infection Prevention and Control
All contacts in the family, children and senior citizens, who are at risk are tested for TB during treatment and at least until a year after the treatment has been completed.
As a nurse does a routine checkup on Vedant (10 years), Vaishnavi's brother, we find out that Vaishnavi doesn't know anything about her TB and never questions her mother about the tablets she eats.
While it was difficult to give her TB tablets early on, even when enticed with chocolates; she now quickly consumes one entire pill as she gets better with every passing day.
"Diagnosing DR-TB among children is challenging- pulmonary or extra pulmonary. There is an urgent need for child-friendly diagnostic tools and pediatric drug formulation to effectively treat DR-TB among children. Also, the national guidelines in India need to permit bedaquline and delamanid for children below 3 years and beyond 24 weeks, as per the WHO's revised guidelines."
Chetan Kharatmol
26-year-old drug resistant tuberculosis patient
In 2019, Chetan was preparing for a bright future in Abu Dhabi as a General Fitter. He was elated to have landed a 40-days contract that will lay the foundation for his career. He went to Abu Dhabi and Qatar and worked there for 40 days. Unfortunately, within a month he started getting fever, chills and vomiting. He was admitted to a hospital in Abu Dhabi where he found out he has tested positive for TB.
Chetan said, "Unfortunately, due to lack of discipline and timely treatment, my disease progressed to DRTB. Ever since, I was referred to MSF in September 2021 for treatment, I feel hopeful about my future. I am well attended and looked after at the MSF clinic. I am being given the Bedaquiline, Delamanid and Imipenem regimen.
Despite having no family history of TB, Chetan contracted the drug resistant variant of TB. His friends and family supported him throughout the journey and now he has only one purpose in life- to form a group of TB survivors who are able to contribute to society while also helping others like them.
Chetan said, "Unfortunately, due to lack of discipline and timely treatment, my disease progressed to DRTB. Ever since, I was referred to MSF in September 2021 for treatment, I feel hopeful about my future. I am well attended and looked after at the MSF clinic. I am being given the Bedaquiline, Delamanid and Imipenem regimen.
Chetan knows several TB patients who are helping organize events such as Navratri nights, Ganesh Chaturthi pandals in the society. This helps all of them earn a living while learning from each other.
Although a chest X-Ray revealed several cavities in his lung, he hopes to bat in the cricket ground, play volleyball with friends. He wants to work in a petroleum refinery in the future but given his condition, the family is not too sure if that is a good option for him.
Chetan has two younger sisters at home, one who is married and the youngest is the breadwinner of the family. As he reminisces the days when he would look radiant and young, (one of the side effects of TB drugs is that it darkened his complexion), he looks forward to completing his recovery post-2022 and the opportunity to fulfil his dreams.