The story of Fatima, the first woman e-rickshaw driver in the Jahangirpuri area of North-west Delhi, is one of resilience and hope. Her effervescent smile takes us by a surprise. She has such a strong personality that even the aura around her seems to be radiating with positivity and hope. She speaks calmly even as she describes one the darkest periods of her life.
After her husband died in 2015, Fatima was left with no income, no savings, and no one to turn to. After taking up a few odd jobs here and there, Fatima decided that she would start driving an e-rickshaw. She sold everything in her house to buy an old e-rickshaw and began driving it around the community. After getting the hang of it, she acquired a mini-celebrity status as the first woman e-rickshaw in Jahangirpuri area.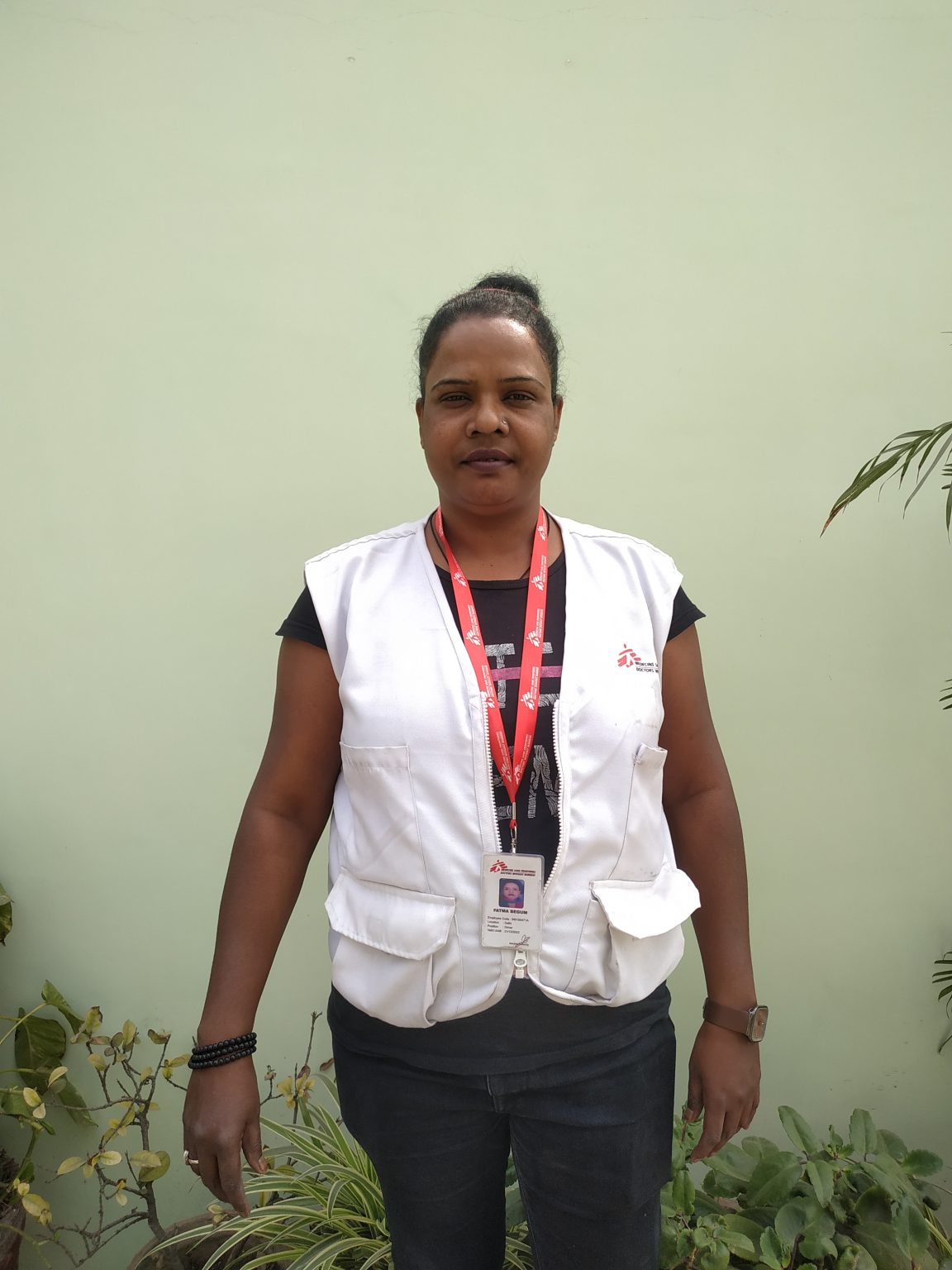 "Small kids, college-going children and adults alike would often ask me to stop and pose for photographs, and praise for doing something (they) primarily considered a man's job," Fatima gushes.​​​
OVERCOMING SGBV TO DRIVE CHANGE AND SUPPORT SURVIVORS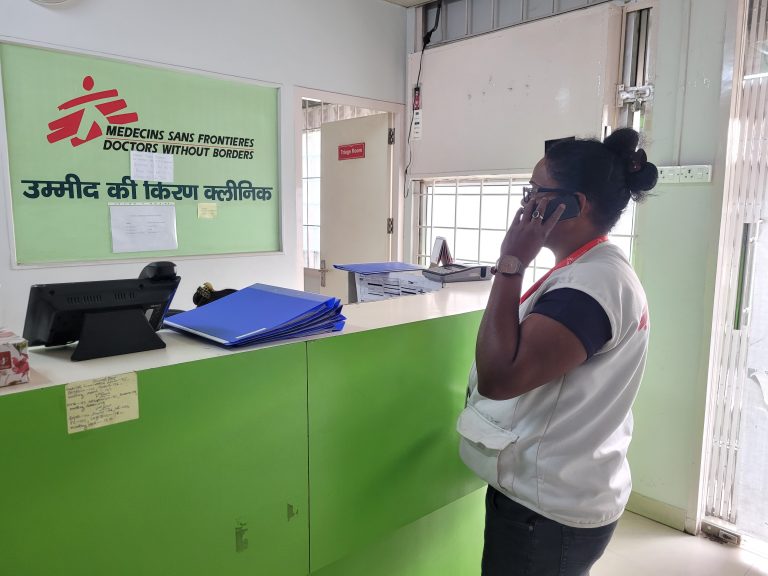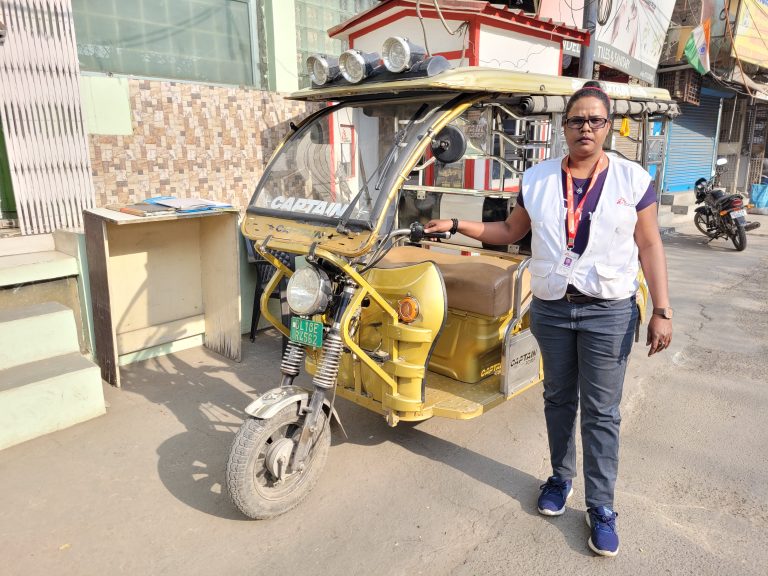 In 2016, I was driving my rickshaw in the Aazadpur area when I spotted a woman wearing a white jacket. I got scared and felt that they might take away my rickshaw as my license was still pending.
She asked me to drop her near the Jahangirpuri metro station to the MSF's 'Umeed Ki Kiran' clinic. The woman held my hand gently while getting down, but I don't know what triggered me that I was panic stricken. I thought they would snatch my rickshaw, which was my only source of livelihood. I started tearing up.
Since she spoke in English, I could not understand anything. I can still vividly recall how the person with her calmed me down and explained that they wanted me to work as an e-rickshaw driver for Umeed Ki Kiran (UKK) clinic. It's been over seven years since I started working with UKK.
THE IMPORTANCE OF COMMUNITY SUPPORT FOR SGBV SURVIVORS
Fatima reaches the clinic sharp at 8:30 am and drives around the community to collect and drop off survivors of sexual and gender-based violence at the MSF's Umeed ki Kiran clinic for their medical treatment.
Her work also includes dropping Community Healthcare Workers (CHW) in and around the area and bringing back patients to the clinic for counselling.
As someone who has survived sexual and gender-based violence, she deeply empathizes with the patients she picks and drops off. She understands the difficult journey they are on and the complex emotions they experience. Fatima's dedication to supporting the survivors knows no bounds – she is always ready and willing to go above and beyond her call of duty.
Sexual and Gender-Based Violence (SGBV) is a common consequence of unequal power relations amongst gender and sex groups. Also known as Violence Against Women, SGBV may include Sexual Violence (SV) such as rape and Intimate Partner Violence (IPV)*. Although the majority of survivors of SGBV are girls and women, boys and men can also be harmed by SGBV.
"A lot of times these women and young ladies have expressed their interest in learning to drive an e-rickshaw like me and being financially independent. I see the glimmer of hope in their eyes when they see a woman dropping and receiving them," Fatima smiles.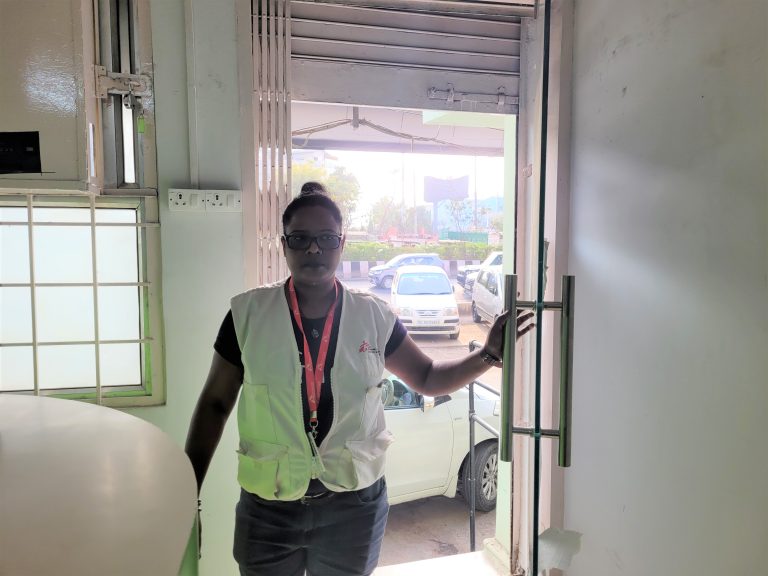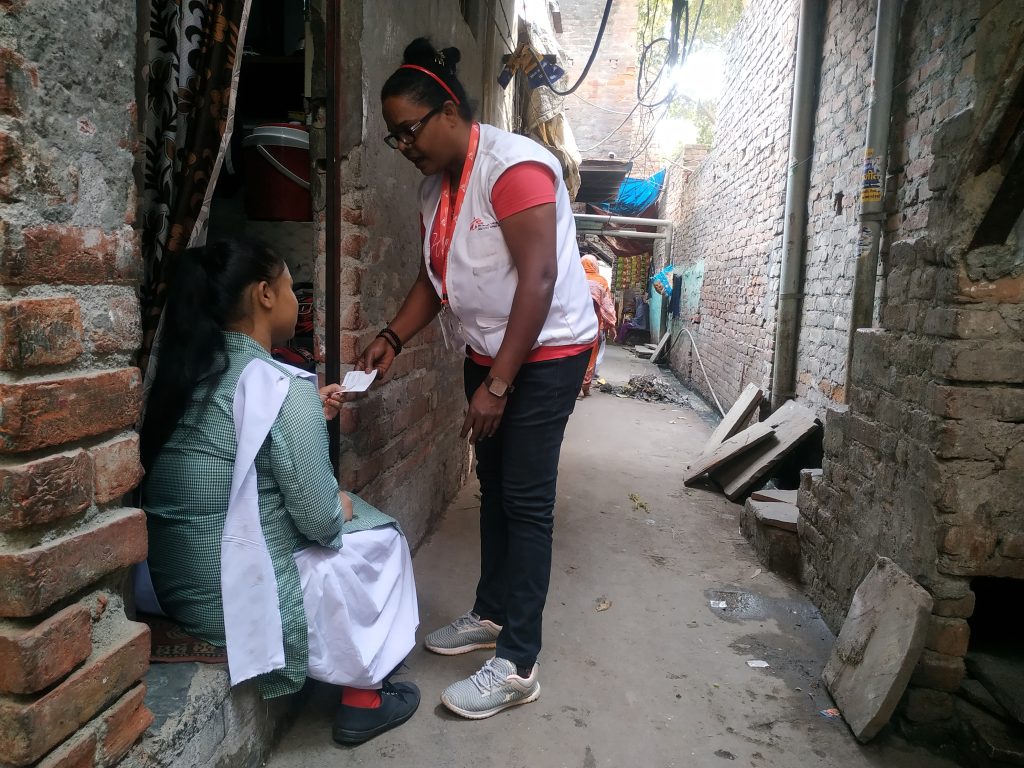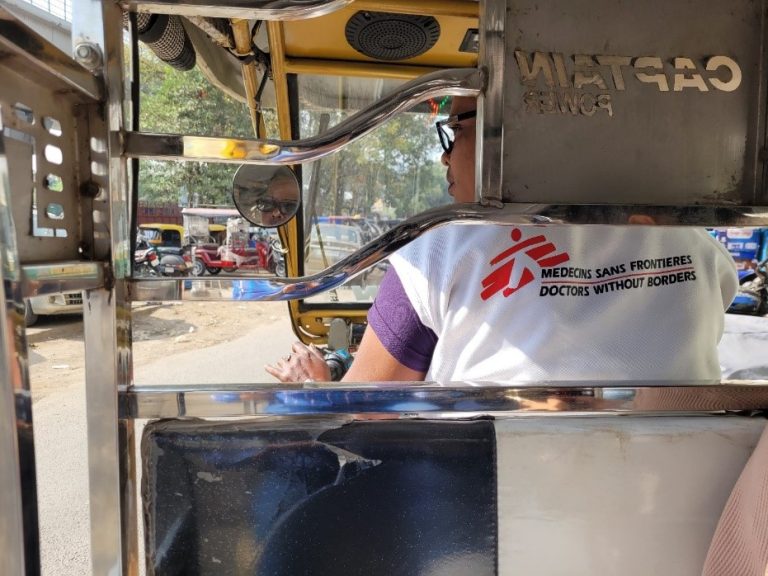 "There was one time, I was taking our Community Health Workers to a hospital. While I was waiting for them, I saw a young girl, probably in her 20s, sitting and crying inconsolably. I approached her gently. She finally opened up to me about her experience with SGBV. It was obvious that it had taken a lot of courage for her to share this with me, so I made sure to listen attentively and be as supportive as possible. I slowly convinced her to visit the clinic and talk to MSF counsellors. She was hesitant initially, but when I told her about my own journey and showed her my MSF identity card, she agreed.
When that girl came out of the clinic after her counselling, she hugged me tightly with tears of happiness in her eyes. She thanked me immensely for getting her the help she needed. I still get goosebumps when I think about her."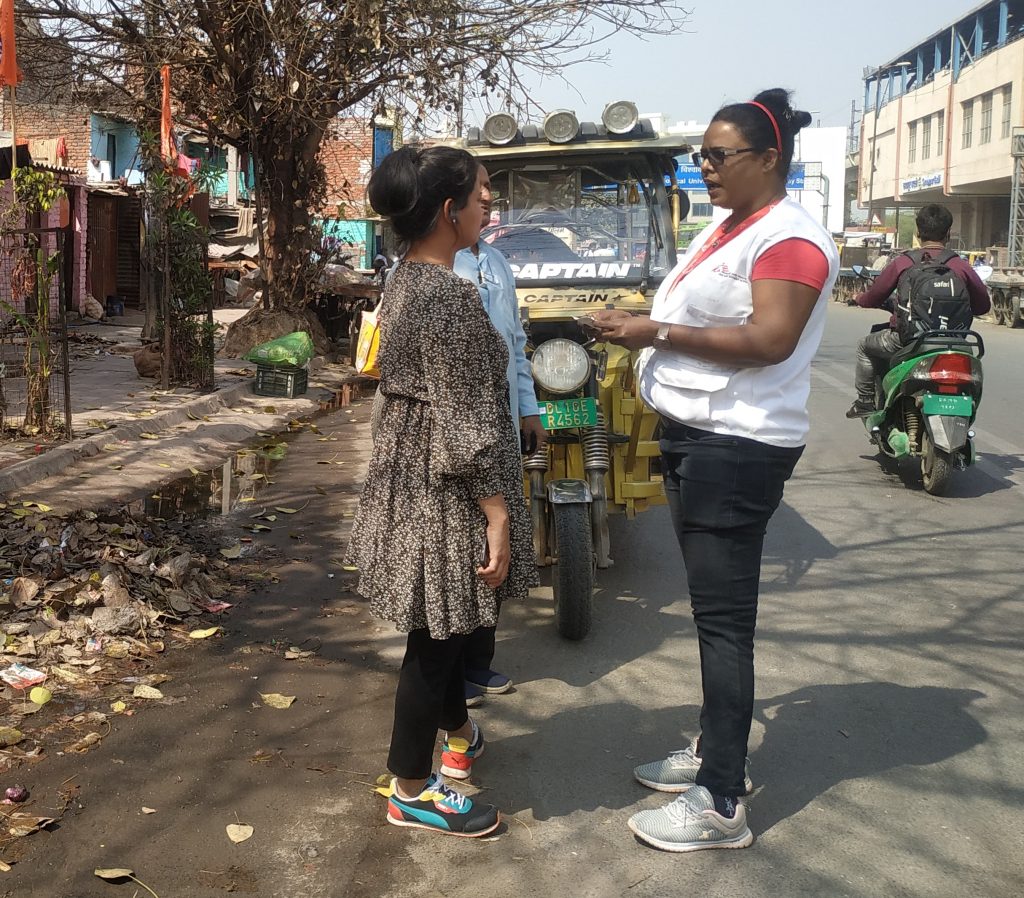 Being from the community herself, Fatima knows the importance of talking to patients with compassion to not trigger secondary trauma. She has a way of building trust and rapport with the survivors which is vital to link them safely with the next stage of care. Her way of caring for patients and speaking with them helps survivors gain trust in us.
On an average day, Fatima drops health educators to the survivor's house/s and back to the clinic. She also facilitates easy and safe commute of ASHA and Community Healthcare Workers and survivors-patients to the clinic.
"I belong in the same community as them (patients and survivors) and it gives me immense satisfaction to be able to aid them in any manner. I have lived the same trauma and faced intense violence in my life. Despite living in the same community, I feel extremely fortunate that I am on the other side of the situation where I can lead them to any sort of help."
"As soon as they sit in my e-rickshaw, I tell them ki rona nahi hai, himmat rakhna hai and aage badhna hai." [Don't cry, have faith and stay strong and focus on moving forward and healing yourself.]
Fatima's story is a living testament that community support can change the life of the survivor of sexual and gender-based violence and give them a fresh lease on life. She is not just a driver—but rather an indispensable link—between the community and SGBV survivors with the healthcare service providers. She ensures humane, non-intrusive, and supportive care for survivors from the moment they step onto her rickshaw.
SGBV (sexual and gender-based violence) is a prevalent issue globally and same is reflected in India. According to NFHS-V, 30% of women in India face physical or sexual violence, yet only 2% of them seek medical care. The stigma and shame associated with SGBV often deter survivors from speaking out and seeking help. This is where community support plays a crucial role.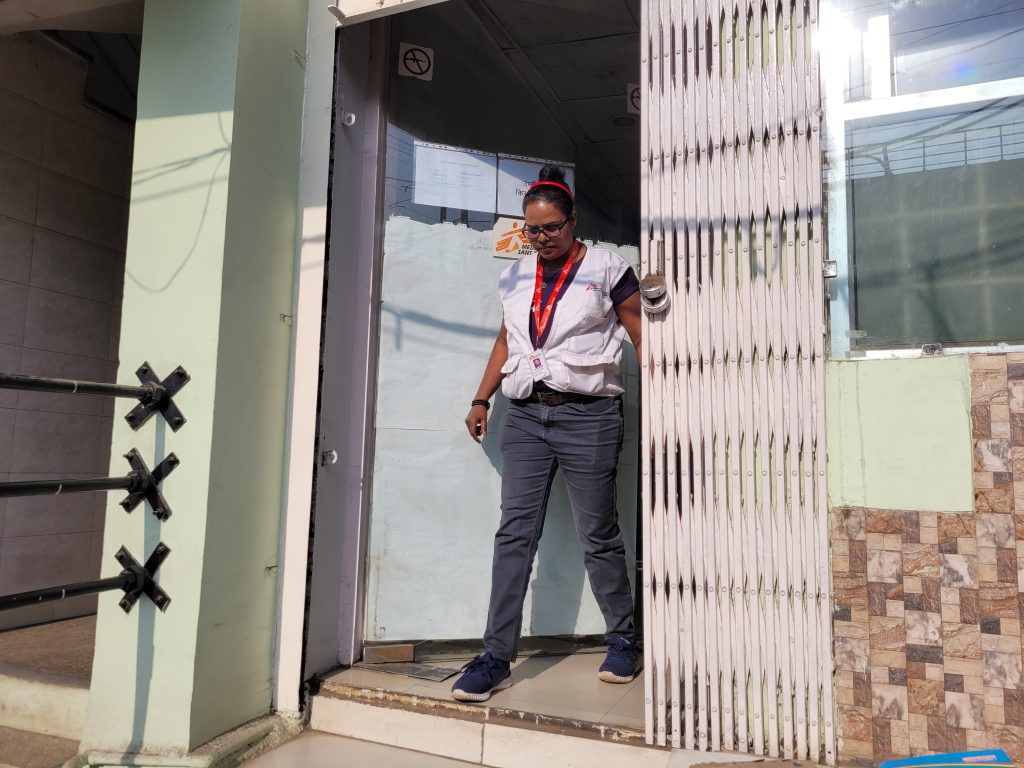 To ensure medical care for SGBV survivors in the Jahangirpuri and Bhalswa regions of North-west Delhi, MSF (Médecins Sans Frontières) established a clinic in 2015. Umeed Ki Kiran is a community-based, OPD clinic providing free, confidential, and medical and psychosocial care to survivors of SGBV. MSF's field experience shows that the most vulnerable groups to facing SGBV in this region are women, children, and adolescents, commercial sex workers (including transgender women), disabled people belonging to lower castes, and religious minorities.
It is vital to understand that despite the prevalence of violence in society, survivors are often deterred from speaking out and seeking help due to normalisation of such violence and the stigma and shame associated with it. This is precisely why engaging and empowering community members like Fatima is extremely vital to ensuring that survivors of sexual and gender-based violence (SGBV) can access the help and healthcare they need.
Every community needs such champions who can link survivors in need to service providers. By providing a safe and non-judgmental environment for survivors, community members can help them heal and move forward with hope and dignity.